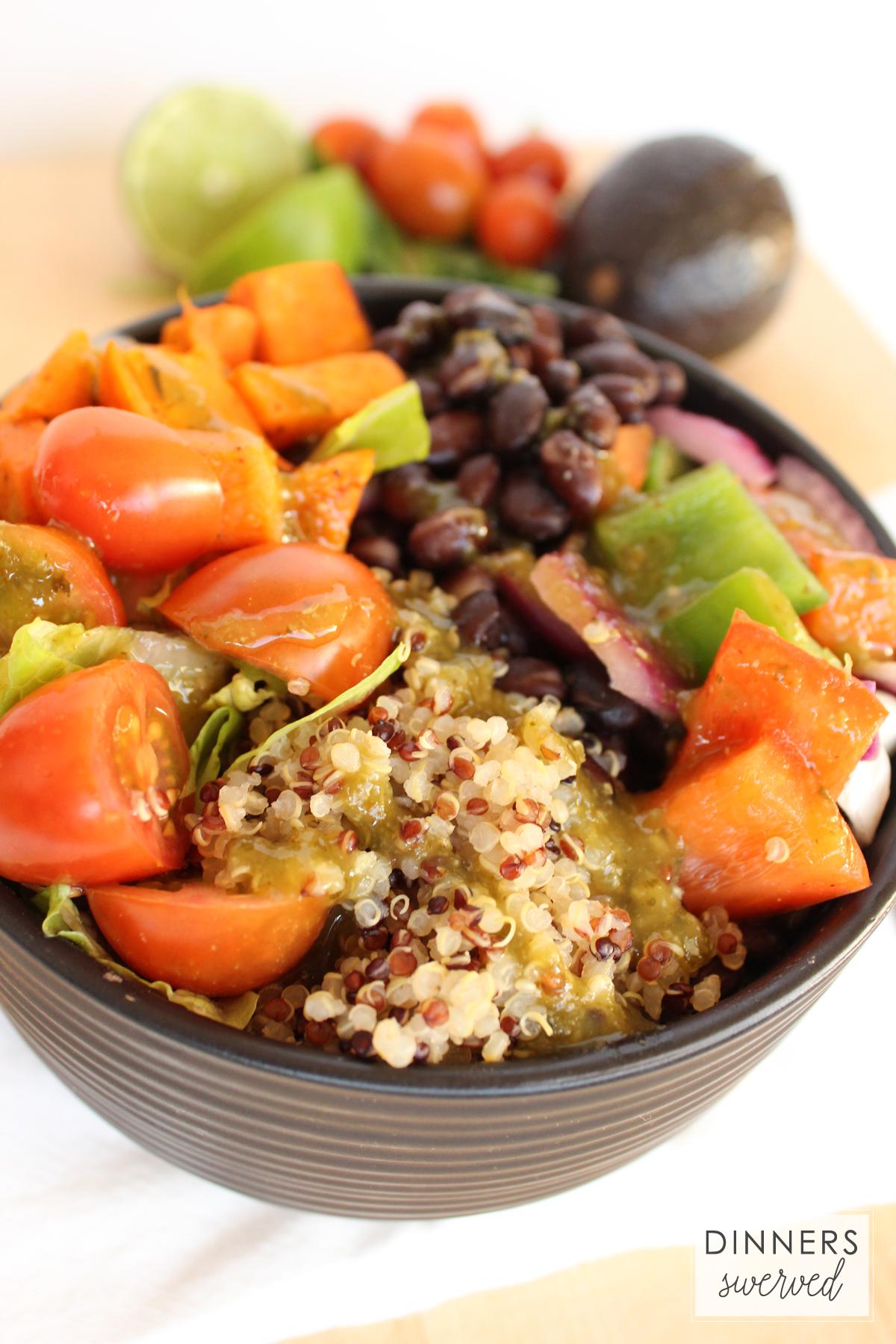 Everywhere you turn these days, someone is making a Buddha Bowl, California Bowl, Fajita Bowls, Rice Bowl, etc. Some may be Mexican inspired, others Asian inspired, and still others are just plain their own thing. I love them, not only because they are delicious, but man who doesn't love a one-bowl meal?
My version of the California Bowls came about because I'm lazy and I didn't want to drive to my favorite restaurant and I also like to control what ingredients go into my family's food. For today, we are making these bad boys vegetarian, but they are fantabulous with shrimp, chicken or beef. Now, "quinoa or rice?" is really a question you must ask yourself. Rice is really good in these bowls, however quinoa always wins for me because it is considered a complete protein and if you are eating a vegetarian bowl, you want all the extra protein you can get!
These bowls are easy, like close your eyes make them in your sleep easy. I start cooking my quinoa and than let it do its thing (this is literally the longest part of the meal). While that's cooking, I cut up and sauté my peppers and onions, with a little drizzle of grape seed oil and salt and pepper. I don't cook them for more than a few minutes, as I like them to be hot and a little charred, but NOT over done and mushy. Sometimes, I will cook my beans in a separate pot, but a lot of times I am just too lazy, so I will drain them well and than toss them in with the peppers and onions and heat them through. Cut up some lettuce, tomatoes, avocados, limes and you are ready to assemble. I put the quinoa down first, followed by the peppers, onions, and beans, than top with a handful of lettuce, some tomatoes, and avocados. A lot of restaurants have delicious sauces to go on these bowls and you are more than welcome to use a chipotle ranch or cilantro dressing, but we've gone minimalist with these bowls. We top with a generous squeeze of lime juice, some hot sauce and/or salsa and a little sprinkle of cilantro. Occasionally, we may top with cheese and eat a few tortilla chips with these bowls (okay I occasionally use cheese, but I never skip the tortilla chips…NEVER!). Bam my friends, that is how you make an easy Cali Bowl!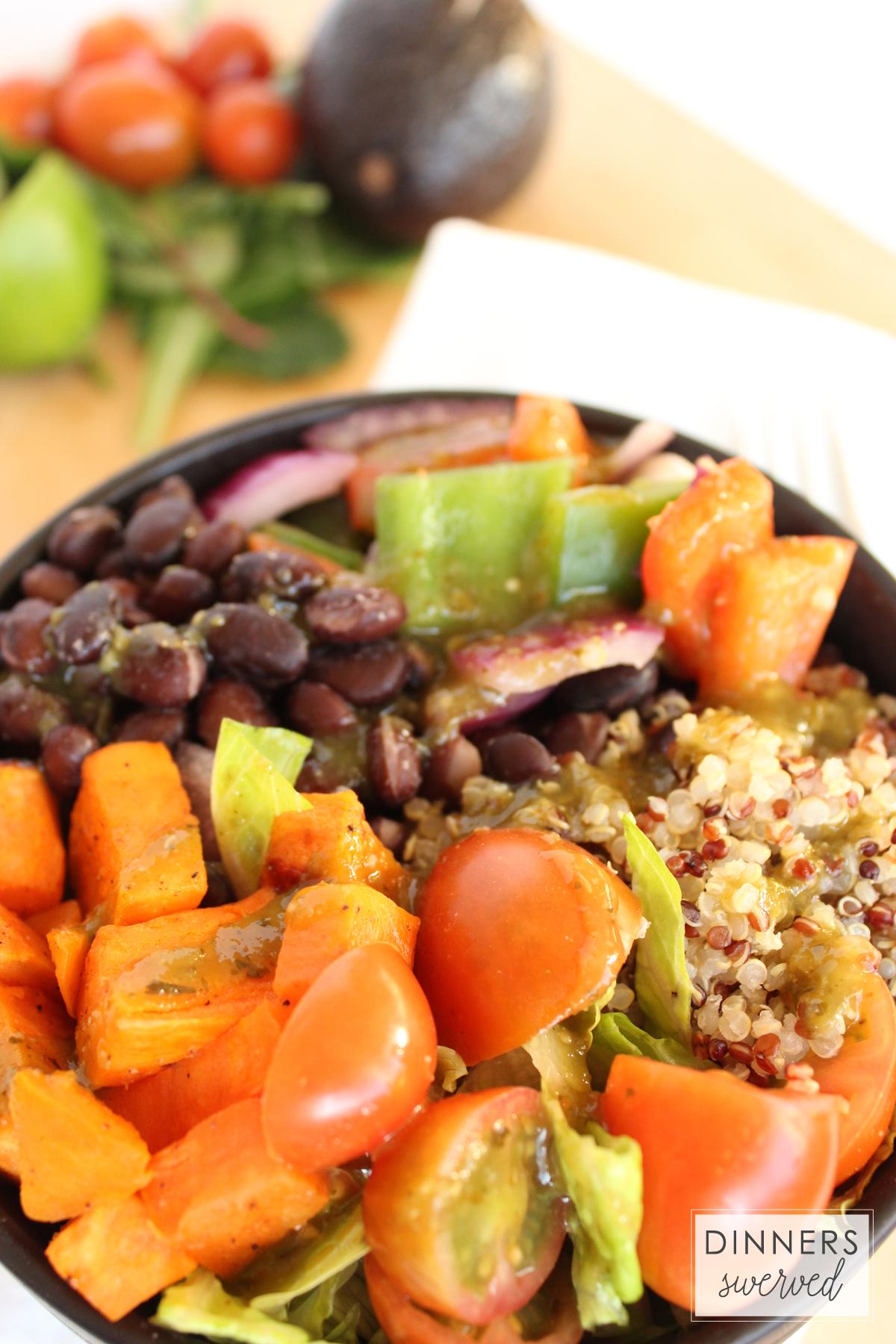 Cali Bowls
Makes around 3-4 Bowls
Ingredients
1 cup quinoa (cook per instructions on package)
2-3 Bell Peppers, cut into bite sized pieces
1 Large Onion, cut into bite sized pieces
2 cans black beans, drained and rinsed
1 head of Romaine Lettuce, sliced finely
1 tomoato, diced
1 avocado, diced
2-3 limes, quartered
1 Bunch Cilantro
Hot Sauce and/or Salsas
Salt and Pepper
1 tablespoon grape seed oil
Instructions
Place quinoa on the stove to cook and leave alone until all water has evaporated (approximately 25 minutes).
Heat a large sauté pan over med heat and than drizzle ½ the oil into the pan. Than toss your peppers and onions into the pan and sprinkle with salt and pepper, stirring occasionally for about 3-5 minutes until the peppers and onions are hot, but still firm.
Now, toss your black beans in with your peppers and onions and allow to heat through, add a little more oil if the beans seem to stick.
While the peppers, onions, and beans are cooking chop up the lettuce, tomatoes, avocado and limes.
Once, the pan is heated through and the quinoa is done, you are ready to assemble.
I place ¼ - ½ cup of quinoa on the bottom of the bowl, followed by ¾ to 1 cup of the pepper, onions, and beans mixture, a handful of lettuce, a few tablespoons of tomatoes and avocado, than I squeeze a few lime slices on top and add my favorite hot sauce and cilantro.
Cheese and tortilla chips are optional. Serve Warm.