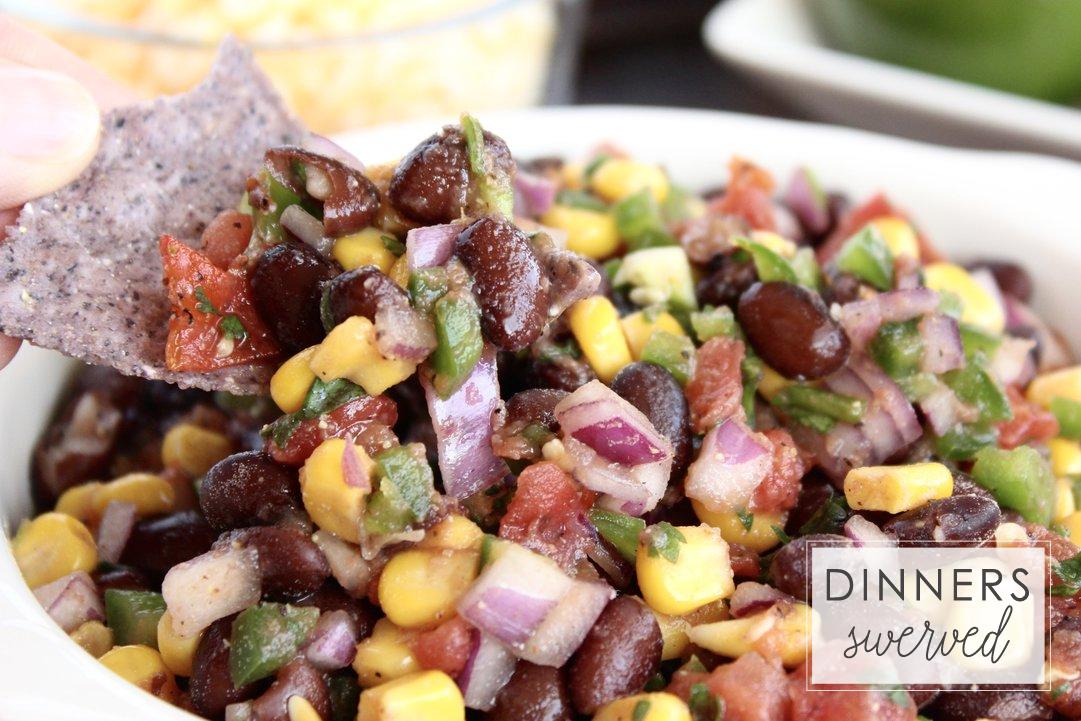 I love this bowl of zesty goodness. It's a salsa that could double as a side dish or light salad, due to how hearty it is. This is the perfect last minute, but impressive, appetizer to bring to a party, because it's colorful, delicious and comes together in a very short amount of time. You simply combine all of the ingredients and let them sit together and do their "thing" (a.k.a. meld together).
You can't go wrong with tomatoes (don't judge me, I cheated and used the canned variety this time), black beans, sweet corn, spicy jalapeños, refreshing cilantro and zesty red onions. This salsa is packed with flavor and it goes great with anything traditional salsa goes with. Enjoy it with tortilla chips (we all know I have the Costco size bag in my pantry waiting for occasions like this), on top of scrambled eggs, add it to tacos or enchiladas or simply eat it with a spoon. No matter how you eat it, I hope you love it as much as I do!
**You can adjust the heat level to your liking by adding or taking away some of the jalapeños or you could even substitute them with Serrano Peppers for more of a kick!
Black Bean and Corn Salsa
A quick and easy salsa that makes a great appetizer or side dish.
Serves:
apprx. 1½ - 2 cups
Ingredients
1 can of Black Beans (drained and rinsed)
¾ cup of canned Tomatoes with Chilies
½ cup Corn (fresh or thawed)
¼ cup Cilantro (chopped)
¼ cup Red Onion (diced finely)
2½ Jalapeños (diced, remove seeds for milder flavor, keep for more heat)
1 Lime (juiced)
1 tsp Salt
½ tsp Black Pepper
¼ tsp Cumin
¼ tsp Garlic Powder
Instructions
Mix all ingredients together and let sit for at least 30 minutes in the refrigerator.
Enjoy with tortilla chips or on anything you would normally put salsa on