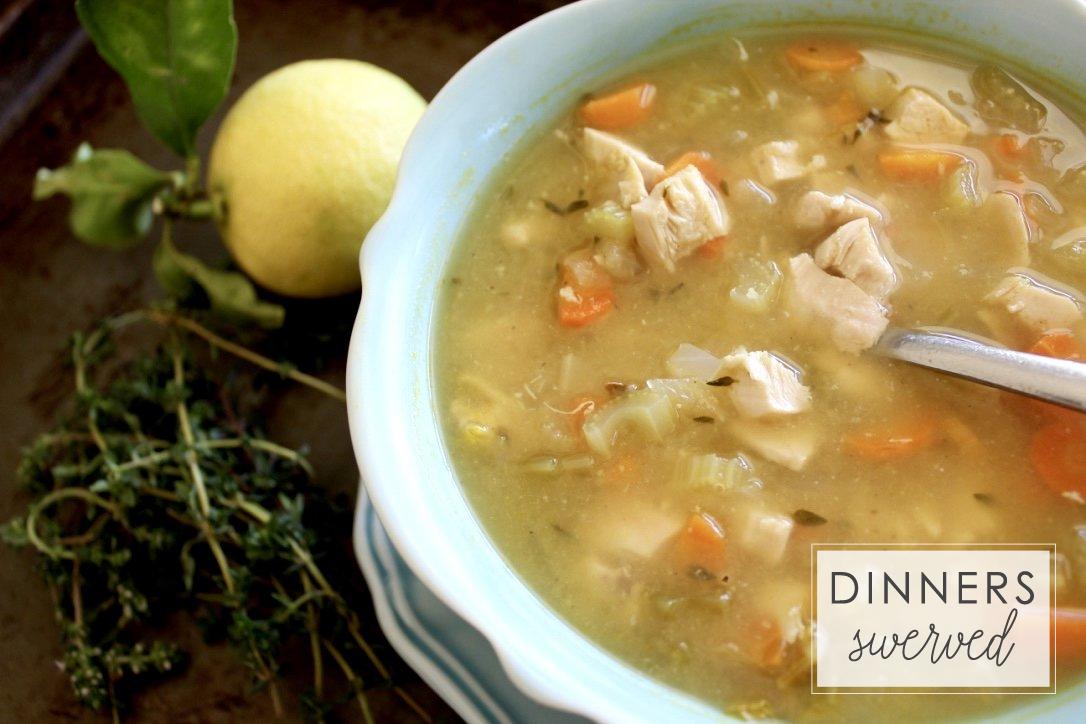 When I don't feel well, I want soup. When it's cloudy out, I want soup. When it's cold out, I want soup. When I'm tired and lazy, I want someone to make me soup. There's a trend here, in case you haven't picked up on it yet, and it's that soup is my go-to comfort food. While I love a good Tomato Soup and Grilled Cheese Sandwich or French Onion Soup with melted cheese (mmm, cheese may be another comfort food we will have to revisit at a later date), there is something so soothing about Chicken (Noodle) Soup.
Over the years I have attempted to create the perfect Chicken Soup. Some were wins and some were just "okay". Than one day, I played around with fresh lemon juice and thyme together and bam, the Lemon and Thyme Chicken soup was created. If you are not as lemon crazy as I am, than feel free to cut back the lemon juice, but I think it adds a brightness to the soup. Now this soup may have a light/bright flavor, but don't think that means it's not hearty. So much so, one could even skip the noodles if one so desired. I usually make egg noodles for the boys, because according to them that's how it has to be (trust me some days its better to just agree with them and make the dang noodles). I will often make zucchini noodles for myself or skip noodles all together. The point is, you can have noodles or skip them and the soup will be delicious either way.
The next time you want a new take on an old classic, give this Lemon and Thyme Chicken Soup a try, it's a family favorite at my house and I hope at yours as well!

Lemon and Thyme Chicken Soup
A nice bight twist on an old classic.
Recipe type:
Lunch or Dinner
Ingredients
1 - 1½ lbs Chicken Breasts or Tenders
5 Carrots, peeled and chopped
5-6 Celery Stalks, chopped (include the leafy green tops)
1 medium Onion, diced
2 - 32oz Chicken Stock
Quarter sized bunch of Thyme
2 Lemons (1 lemon for Chicken, 1 for the broth)
1 tsp Crushed Garlic
2 tsp Salt (more to taste)
2 tsp Black Pepper (more to taste)
2 Bay Leaf
1 tbsp Grape Seed Oil, Olive Oil or Coconut Oil (to drizzle in pan)
Egg Noodles or Zucchini Noodles
Instructions
Preheat oven to 400 degrees. Bake chicken with lemon juice (from one lemon) and 1 teaspoon of salt and pepper on the chicken. Bake for 15 min on one side, than flip and bake for an additional 10-15 minutes. Once cool enough to handle, dice chicken and set aside.
Heat a large pot over med/high heat, once hot add about one tablespoon of cooking oil
Add the chopped vegetables and garlic, sauté until soft (about 5 minutes)
Once the vegetables are soft, add the stock, 1 tsp salt and pepper, bay leaves and thyme (leaves will fall off as soup cooks, remove stems before serving)
Bring the mixture to a boil, add the diced chicken and the juice of the remaining lemon (can cut back to a half of a lemon if so desired)
Simmer for 30 minutes (covered), taste and add more salt and pepper if needed
While soup is simmering, cook noodles in a separate pot (if using) or spirilize a zucchini
Add noodles to bowls, as needed, ladle soup over top.
Serve hot