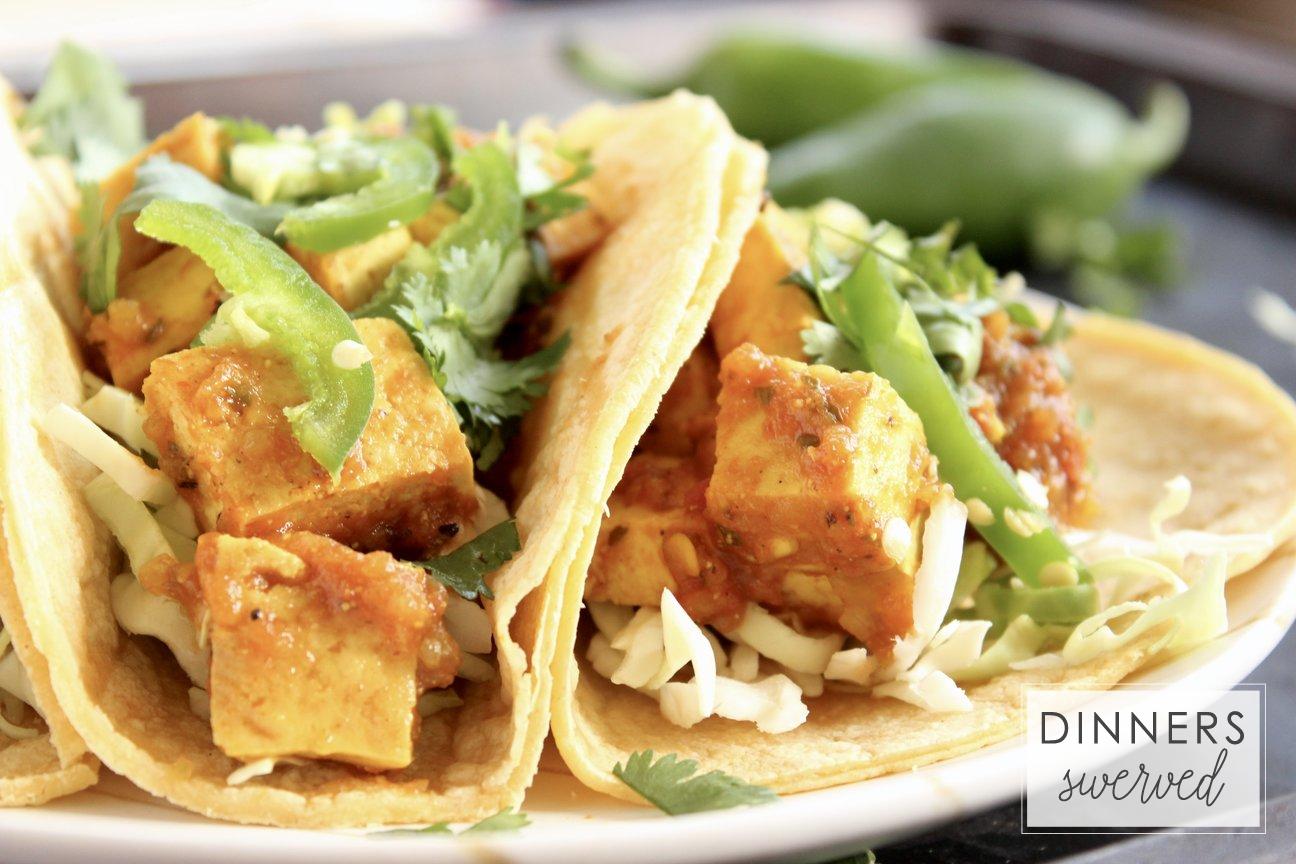 Remember the old saying, "You scream, I scream, we all scream for…Tofu!" No? Ok, me neither, but before you scroll past this post, hear me out. I, too, have had some bad tofu experiences in the past, it's been mushy or bland or simply NOT good and for a long time I thought I didn't like it and my husband was convinced he REALLY didn't like it. Than, I had a tofu taco at a restaurant that changed my mind and it's taken me the better part of a year to get this recipe to a point where it's worth sharing. It's got a few extra steps, but those extra steps are what makes this taste so good. Seriously, they are sooooo good!
There were many attempts at getting the tofu to a texture that mimicked chicken. I know, I know, you are saying, "Nancy, if you want it to be like chicken, why not eat chicken?" The simple answer is that sometimes I don't want to eat chicken, beef or pork, I want a vegetarian protein and I want to have a good texture! The best way to get good texture, is to buy Extra Firm or Super Firm Tofu, the firmer the tofu the less water content, thus less mushy tofu. Next step, (and frankly the most important) is to PRESS your tofu before cooking. To do this, slice the tofu into 1/4″ to 1/2″ slices, place the tofu on a towel covered cutting board, cover the tofu with another towel and another cutting board, than pile a few pans on top. I realize this seems excessive, but pressing the tofu is key to a good texture and getting the moisture out. I leave my tofu like this for up to an hour before moving on to the next step (in a pinch you can shrink that time down to 30 minutes). Next up, season the tofu with a sprinkle of salt, pepper, and a little cumin and place pieces on a hot skillet or griddle with a little spray oil (I like Coconut Spray Oil) to help brown the sides. Remove tofu and let cool for a few minutes, than cut into cubes and place in your sauce.
The sauce is also a key factor for these tacos. It's zesty, without being too spicy and it's thick enough to be able to use in tortillas. I know there are quite a few spices in this sauce, but each has it's role and compliments the dish. (i.e. I know you are tempted to leave the Smoked Paprika out because of regular Paprika also being in this dish. Leave it!! I swear it adds a depth of flavor you need.) I like to let the tofu and sauce simmer together for thirty minutes to an hour (the longer the better), this lets the sauce cook down a bit and the flavors really get into the tofu.
Serve the tofu in corn tortillas with cabbage and than use whatever toppings you'd like, cheese (goat cheese is really good), tomatoes, cilantro, onions, avocado, etc. These tacos are good, I promise! Remember how I said my husband really didn't like tofu? Well he still doesn't love tofu, but he LOVES these tacos and that's all that matters. Happy Taco Tuesday Friends!

Tofu Tacos
Tofu Tacos that will have you coming back for seconds!
Ingredients
For Tofu:
14 oz Extra Firm or Super Firm Organic Tofu
Salt, Pepper, and Cumin to sprinkle on sliced tofu
Spray Oil (olive, coconut or grape seed)
For Sauce:
1-7 oz can Green Chilies
1-14 oz can Diced Tomatoes with Chilies (You only need ¾ cup tomatoes and 1 Tbsp tomato juice)
1 tsp Cumin
½ tsp Paprika
½ tsp Garlic Powder
½ tsp Oregano
½ tsp Salt
¼ tsp Tumeric
¼ tsp Smoked Paprika
½ of a lemon, juiced
¼ cup Cilantro, chopped
3½ Tbsp Warm Water
1 tsp Coconut Palm Sugar (can omit or use brown sugar)
Instructions
Tofu:
Cut tofu into ¼" to ½" slices
Place slices on a towel covered cutting board, top with another towel and another cutting board Place pots/pans on top to assist with pressing
Leave for 30 to 60 minutes
While tofu is "pressing", make sauce (instructions to follow)
Lightly sprinkle salt, pepper, and cumin on pressed tofu
Heat skillet over med/high heat and spray with coconut oil
Place tofu in skillet to brown each side, approximately 1-2 minutes
Remove from heat, cube tofu once cool enough to handle
For Sauce:
In a food processor, add the can of Green Chilies and the ¾ cup Tomatoes and 1 tablespoon juice from can
Blend for 10 seconds
Add Spices, Lemon Juice, Cilantro, Warm Water and Coconut Palm Sugar
Blend for 20 seconds
Place in large pot and start to heat over medium heat
Place tofu in sauce and let simmer for 30 - 60 minutes
Serve over warm tortillas, cabbage and any other taco toppings