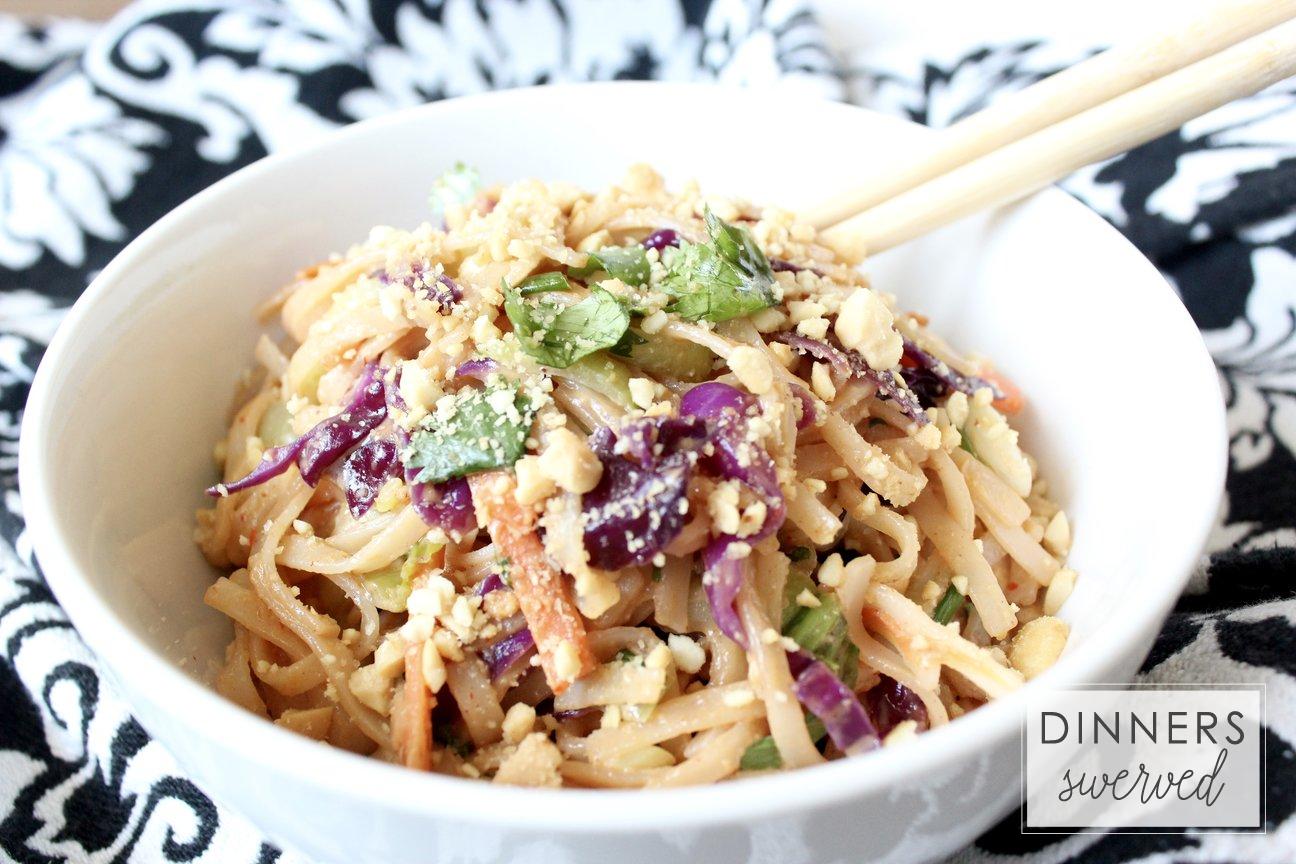 This is my take on Peanut Noodles and I'm pretty pumped about this dish people! It's taken a few tries and a few added ingredients, but I think it's pretty darn tasty. They're a little bit creamy from the peanut butter, a little zesty from the Sriracha and the ginger and lime help make it pop!  These noodles are kid approved and super easy to make, so plan on these for dinner soon!
Now, don't be scared because there are more than a couple of ingredients for the sauce, they are all available at your local grocery store and the sauce takes about five minutes to make (seriously, it's quick). I used Tamari Sauce instead of regular soy sauce, because it's gluten-free, but you could use regular soy if that's what's in your fridge. I made this dish with only vegetables, however grilled chicken or shrimp would be fantastic with this dish if you were so inclined. Speaking of the veggies, I like red cabbage (because it's pretty), bok choy (yes, I know it's another cabbage) and I have to have sliced carrots, but you could change these up if you wanted. Just plan on about 4 – 4 1/2 cups of thinly sliced vegetables for these noodles. You could also add a little more Sriracha if you would like a bit more spice, I made it so that it was mild enough for my kids to eat, but feel free to add more on top if you'd like more or a kick!
These Peanut Noodles are simple, quick, versatile and most importantly….kid approved. It takes less time to make these, than it would to order from your local take out place and they are way healthier too! Enjoy my friends and Happy Weekend!
Peanut Noodles
A delicious and easy way to make Peanut Noodles at home!
Ingredients
8 oz Pad Thai Noodles
1¼ cup Carrots (thinly sliced)
1½ cup Red Cabbage (thinly sliced)
1¼ cup Bok Choy (thinly sliced)
5 Green Onions (chopped)
3 Tbsp Cilantro (chopped)
¼ cup Peanuts, roasted not salted, crushed
½ Tbsp Coconut Oil
For the Sauce
2 Tbsp Tamari Sauce (can use soy if not Gluten-Free)
1½ Tbsp Rice Wine Vinegar
1 Tbsp & 1 tsp Sweet Chili Sauce
1 Tbsp Oyster Sauce
¼ Cup Creamy Natural Peanut Butter
3 tsp Sriracha Sauce
1½ tsp Sesame Oil
1 inch piece of fresh Ginger, (grated)
2 Limes (juiced)
¼ cup warm water
Instructions
Cook noodles per instructions on package, drain and set aside
Slice and Dice your vegetables
Heat a large skillet over med heat, add the coconut oil
Add sliced carrots, cabbage and bok choy to the hot pan
Saute vegetables 3-5 minutes, so they still have a little crunch left
While vegetables are cooking, mix sauce ingredients together, set aside
When vegetables are cooked turn off heat, add the chopped green onions
Add ½ the sauce and ½ the noodles to the hot pan and stir together, once thoroughly mixed add the rest of the noodles and sauce, mix again until well combined (if the noodles are sticking add a little more water to mix everything together, a tablespoon at a time)
Garnish with Cilantro and Peanuts
Serve Warm