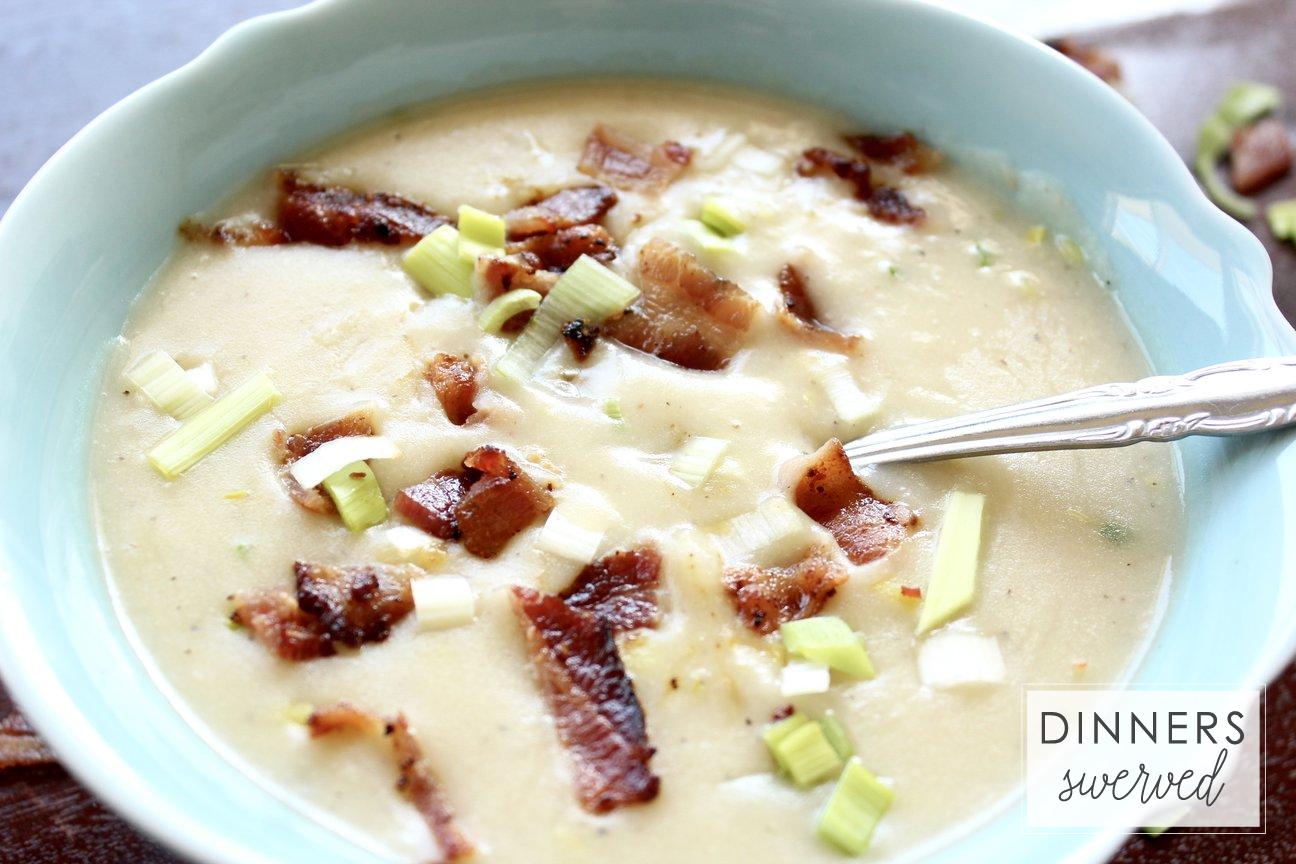 Greetings Friends! I'm back and finally feeling normal again. Last week, I came down with a nasty case of Bronchitis and to say it knocked me down is an understatement. If my awesome husband had not taken off for a few days to man the house, I'm pretty sure my children would have starved and small riots would have started. But we are back on track this week and I'm feeling much more alive than I was a week ago! As I'm sure you've gathered by now, I love soup, especially when I'm not feeling well and I was soooooo craving soup last week. By Sunday, I was finally feeling like I could cook again, and not infect the entire house with my illness, so this soup was made and and happiness ensued.
I have loved creamy potato soup all my life. It's creamy and it's made with potatoes, what's not to like? As much as I love me some potato soup, let's be honest, it isn't the healthiest of soups out there.  To lighten this soup up, I cut the heavy cream out, add a can of pureed white kidney beans (for creaminess and a little protein), and I add just a little Half and Half right at the end. I do top my soup with a few crumbles of bacon to give it a little sass, but that's purely optional (although if you have a judge-y four year old, bacon tends to encourage the trying of new things…just a friendly parenting tip for you free of charge). Oh, did I mention this soup is pretty darn easy as well? Total Win!
A few things to remember: 1) Dice your potatoes fairly small so they cook quickly in the boiling water. 2) Leeks are dirty (nobody wants sand in their soup…nobody), so cut the ends off and than slice down the middle of the leek and let soak in a bowl of water for a few minutes to get all the dirt off and out of all the layers. 3)If you want to have a dairy-free soup, feel free to leave the Half and Half out of the soup. 4) Bacon is also optional, if you are a vegetarian or don't want the added calories of crispy, delicious bacon…I will totally understand if you skip it, my four year old won't, but we just won't tell him you did.
This soup can be enjoyed in the middle of a Midwest winter or in the middle of So-Cal's June gloom. It's warm, comforting and a bit healthier than it's classic predecessor. It's basically like a hug in a bowl, you're welcome 🙂
Happy Eating!
~Nancy

Potato and Leek Soup
This creamy, potato and leek soup, is easy and delicious and oh so comforting.
Ingredients
3 lbs Russet Potato, peeled and diced small
1 medium Leek, diced (about ⅓ cup total)
1 - 32oz Vegetable or Chicken Stock (depending of if you are vegetarian or not)
1 - 15oz can of White Kidney Beans, drained
1 lb of bacon (can use regular or turkey bacon)
½ cup Half and Half
2½ tsp Salt
1¼ tsp Black Pepper
1 tsp Garlic Powder
½ tbsp of Coconut Oil or Grape Seed Oil
Instructions
Cook bacon until crispy, cut into small pieces and set aside
Peal and dice Potatoes
Cover Potatoes with cold water in a large soup pot and bring to a boil
Boil Potatoes until fork tender (10 - 15 minutes depending on size of potatoes)
Drain Potatoes
In the pot, drizzle the oil and sauté the Leek for about 3 minutes or until soft
Place half of the Potatoes back into the pot along with the sautéed Leek
Place other half of Potatoes and the drained Beans in a large bowl, with ½ cup of Stock
Use an immersion blender to blend until smooth (If you do not have an immersion blender, use a regular blender)
Place the blended mixture back into the pot and add 3 cups of stock, stir to blend together
Add Salt, Pepper, and Garlic Powder, stir to blend
Simmer over medium heat for 10 minutes, turn off heat and add the ½ cup of Half and Half
Serve with crispy bacon on top, if so desired.
**update as of 12/30/17
You can make this soup vegan friendly by opting to use coconut creamer, instead of using half and half. You can also skip the bacon, instead sauté sliced leeks in oil until crispy with a dash of sea salt! Bam…vegan and awesome!
xx Nancy