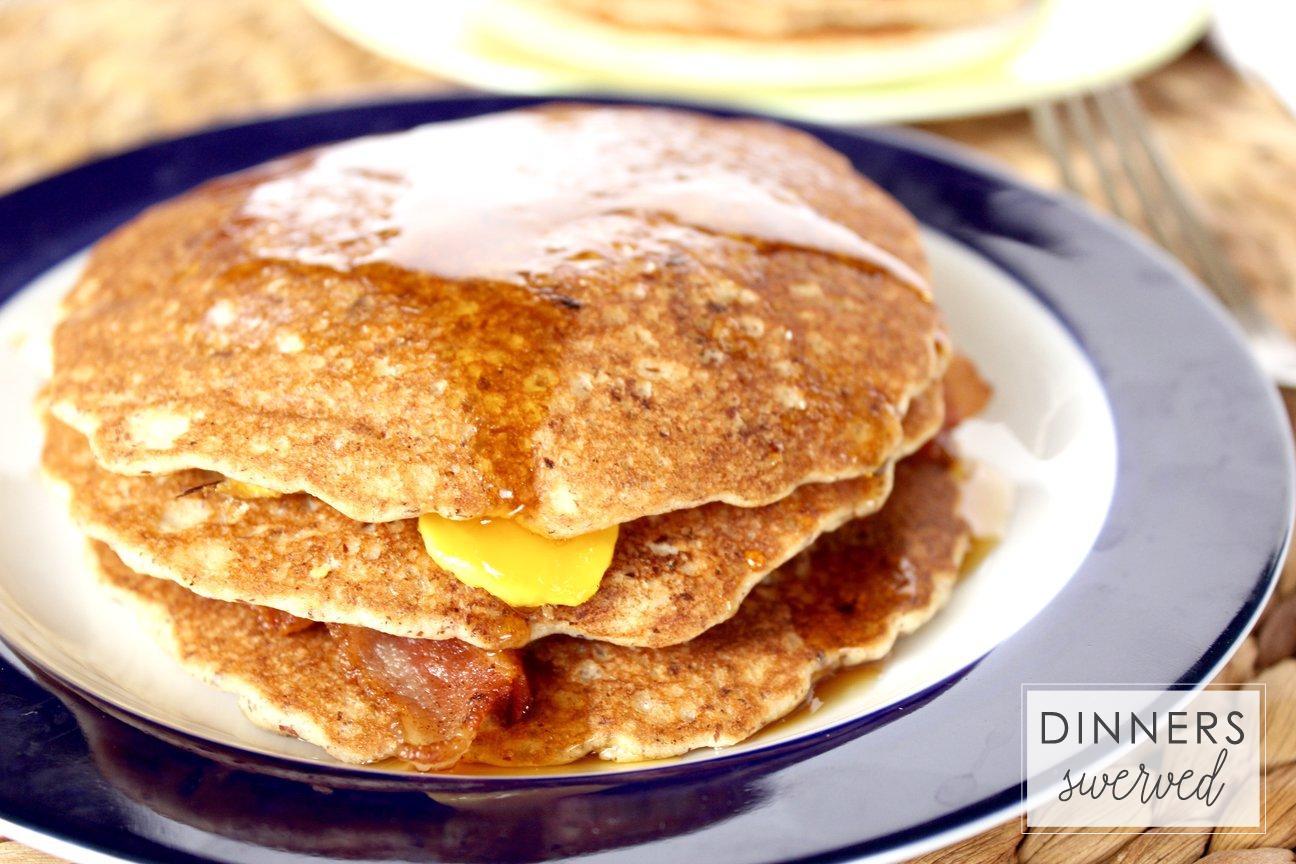 One of the things I missed most, when I started eating more grain-free foods, was fried egg sandwiches. Sure, there are some ok gluten-free breads, but for a while I wasn't even eating those, so I needed to figure out how I could make a substitute. Enter … The Panwich! I had finally recreated a grain-free pancake recipe I loved (the whole family loved for that matter) and it seemed only fitting to put my fried egg and bacon between a few pancakes to create my take on a grain-free breakfast sandwich. Now, I'm going to be honest, you can't really hold the Panwich like you would a bread-based sandwich, but the idea is still the same and it's pretty darn tasty. These Panwiches/Pancakes are kid approved and easily one of the most requested recipes in my house. These Panwiches make a great weekend breakfast or an easy weeknight dinner, no matter when you eat them, I'm sure you will love them as much as we do!
I start by cooking my bacon on my griddle and setting it aside, I make a lot of extra bacon, because I live in a house of bacon thieves. While the bacon is cooking, I mix up the pancakes. The key to these pancakes is the "buttermilk" you make with the almond milk and apple cider vinegar (you can use real buttermilk if you have that lying around, but it's a tad heavier than the almond milk version). These pancakes are light and fluffier than most grain-free pancakes and they taste pretty awesome with just a little peanut butter and maple syrup, but that's not how we are eating them today…focus! Once you mix everything together, you want to let the mixture sit for 3-5 minutes before you scoop it onto the hot griddle, this helps the pancakes come out a little fluffier than the would otherwise.  ****If you've never used grain-free flours to make pancakes, something you want to remember is there is ZERO gluten in these pancakes, so the texture is going to be slightly different their gluten-based cousins. They are a little softer in the middle, no matter how long you cook them. But let me assure you, these bad boys are GOOD AMAZING, so don't let the softer texture scare you. **** After I make the pancakes, I place them in a warm oven to stay warm while I fry up our eggs. I like to use one fried egg on my Panwich, my husband wants two, the choice is yours. After the eggs are done, its time to plate your Panwich! Start with one pancake, add two to three pieces of bacon, another pancake, a fried egg (or two) and than top with another pancake. Drizzle with syrup and you are ready to eat this delicious version of the breakfast sandwich! I dare you to only make these once this weekend 🙂
~Happy Eating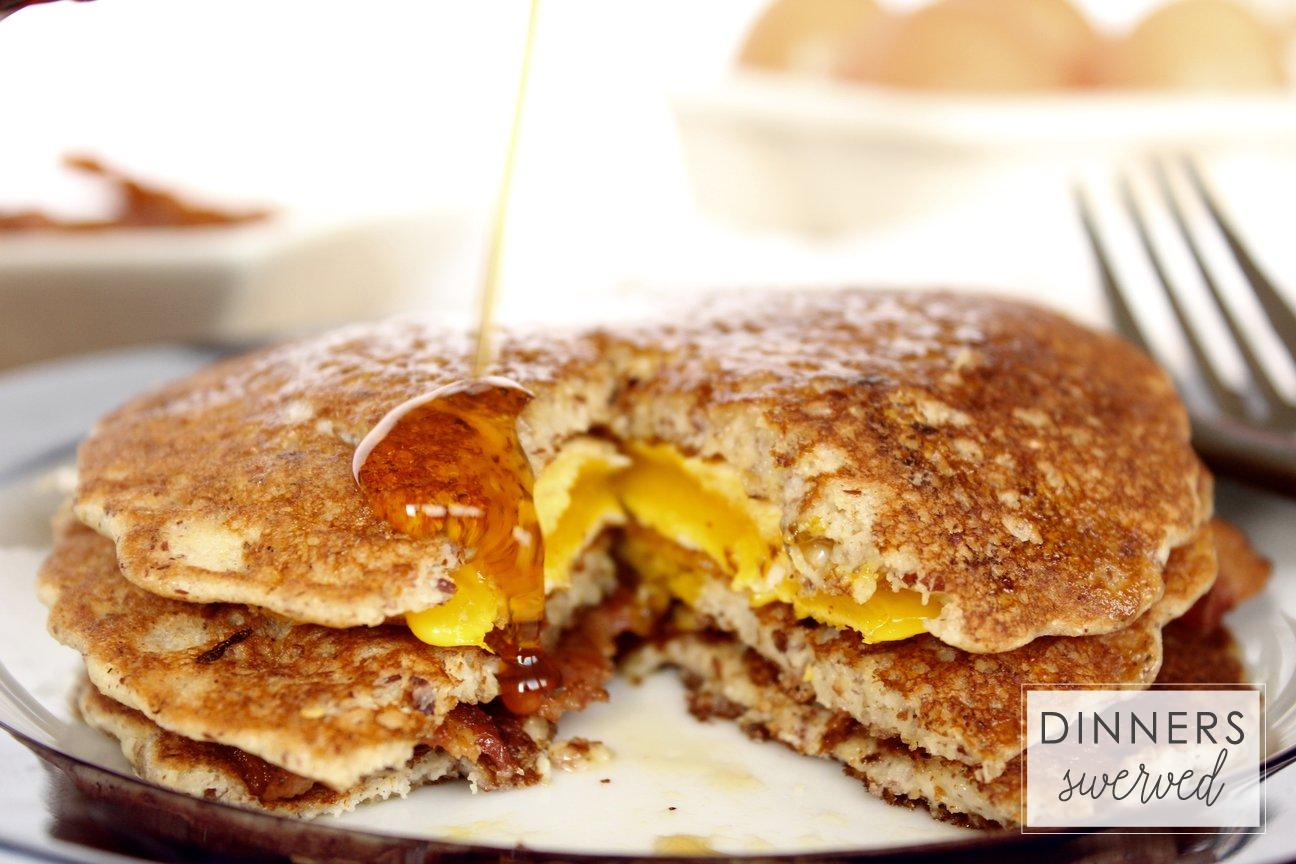 The Panwich
These pancakes make a great grain-free breakfast sandwich your family is sure to enjoy!
Serves:
10-12 4" pancakes or around 4 Panwiches
Ingredients
For the Pancakes
1 cup Almond Milk (Regular Milk does work as well)
1 Tbsp Apple Cider Vinegar
1 cup Almond Flour
⅓ cup Tapioca Flour
2 Tbsp Coconut Flour
2 Tbsp Flaxseed Meal (optional)
1 tsp Baking Powder
½ tsp Baking Soda
½ tsp Salt
2 eggs
2 Tbsp Oil (melted Coconut Oil, Grape Seed Oil, or melted Butter)
1½ Tbsp Maple Syrup
2 Tbsp Fresh Lemon Juice
For Panwich
Pancakes
1-2 lbs Cooked Bacon
Fried Eggs
Maple Syrup
Butter (optional to put on your pancakes)
Instructions
For the Pancakes
Heat a large griddle or skillet over med heat
Place the Almond Milk in a measuring cup with the Apple Cider Vinegar, set aside for 5 min
Mix the dry ingredients in a medium sized bowl
In a large bowl, mix the wet ingredients, including the Almond Milk mixture, whisk together
Add the dry ingredients to the wet ingredients and whisk until well combined
Let the mixture sit for 3-5 minutes (this helps the pancakes cook up fluffier)
Scoop ¼ cup of the pancake mixture and pour onto the hot griddle or pan
Cook the first side for 2-3 minutes or until golden brown and a little bubbly
Flip and cook the second side for around 2-3 minutes
When done, place on a plate and keep in a warm oven, until all the pancakes are made
Can eat with butter or peanut butter and a drizzle of maple syrup or continue on to make the Panwich
Panwich Instructions
Cook the bacon until crispy, set aside
Make the Pancakes, keep warm in oven until ready to serve
Fry one or two eggs, to your liking, per Panwich
Place one pancake on your plate, top with three slices of bacon, add another pancake, your fried egg(s) and than top with one more pancake.
Drizzle with a little syrup
Enjoy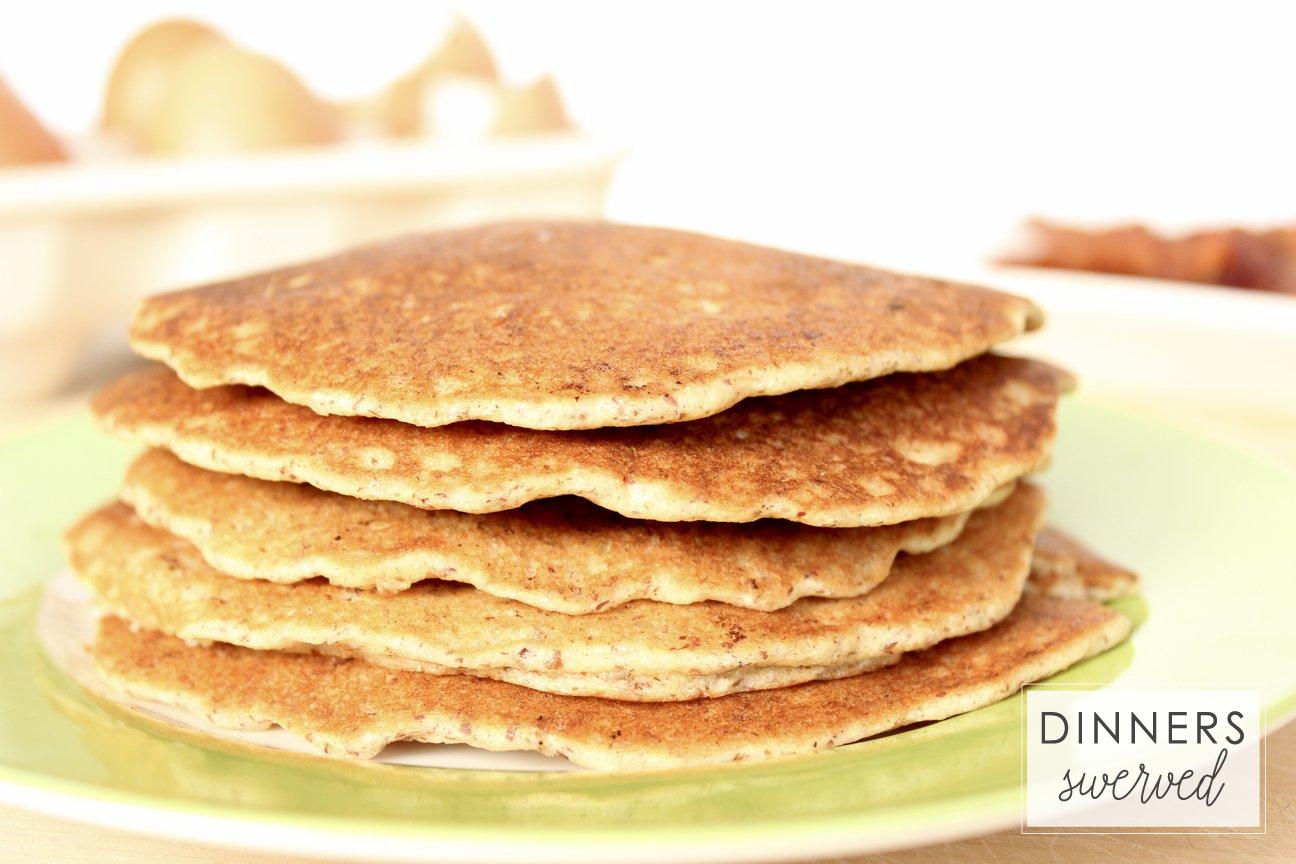 ****The pancake recipe was inspired by Life Made Full's "Grain-free Lemon Buttermilk Pancake" recipe