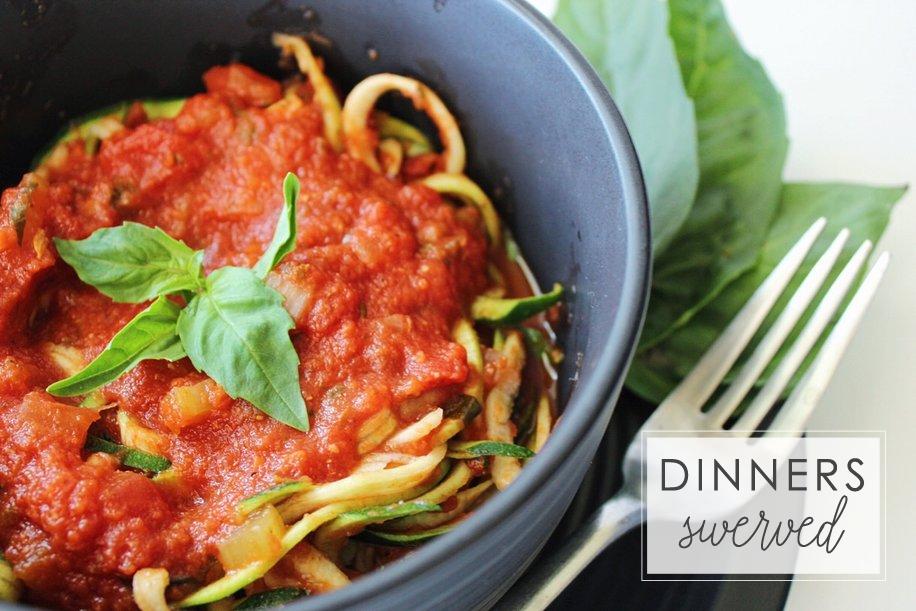 Spaghetti is a go-to family favorite in this house. It's easy, crowd pleasing and is great as a left over. I've been trying to make a good homemade sauce for a while and after several attempts, this sauce seems to be a winner with the critics at home. In fact, we went to a restaurant recently, well known for their spaghetti, and my four year old asked, "Is this going to be as good as mama's sauce?" While he had NO trouble eating it at the restaurant, later he told me my sauce was still the best 🙂
This sauce is kind of a cross between a puttanesca, marinara, and a primavera sauce. It's got lots of diced veggies in it that give it lots a flavor and its lower in sugar than a lot of store bought sauces. This sauce is great on traditional pasta, quinoa-rice blend pasta, zucchini noodles and it also makes a pretty fantastic pizza sauce.
I start by roasting 3 carrots and half of an onion for around 20 minutes. Why? Well because after they are roasted they are a little sweeter and this helps keep the sugar levels of the sauce lower, but still allows it to be a little sweet. I highly recommend NOT skipping this step. While the carrots and onion roast, I sauté the other half of the onion, chopped celery, and crushed garlic for a few minutes to soften. Now here is where I like to throw in an option. I recommend sautéing for 3-5 minutes, the veggies are softer but still have some crunch. If the crunchy-ness weirds you out, sauté a little longer until the celery is softer. I like the texture the crunchy celery gives along with the tomatoes, but again this is up to you. After the celery and onions are cooked to your liking, I add two cans of San Marzano tomatoes. (Note: Don't skimp on the tomatoes. I've done this sauce with regular tomatoes and it has not come out as well. So listen to me and buy the San Marzano tomatoes!) Along with the tomatoes I add the spices and fresh basil and simmer for 10 minutes. Once the carrots and onions are done, put them into a food processor with about 1/2 cup of sauce and blend until the carrots and onions are small pieces. Next, take all the whole tomatoes out of the sauce and put them in the food processor with the carrots and onion mixture and pulse until a chunky sauce starts to form, meaning the tomatoes are broken down and no longer whole. Add back to the pot and simmer for an additional 10 minutes. Here is another option: at this point I will add up to a teaspoon of coconut palm sugar to counter the acidity of the tomato sauce. Before you do this, taste your sauce. You may find you do not want to add any sugar or  you may find you want to add a little, this is where the statement "season to taste" comes into play. If you add sugar, cook for another minute or so and viola…your sauce is done. By this time your children and spouse have wandered into the kitchen and are wondering when they can eat, so serve up the pasta, add a salad and/or some bread, perhaps a glass of wine and sit down to enjoy your dinner!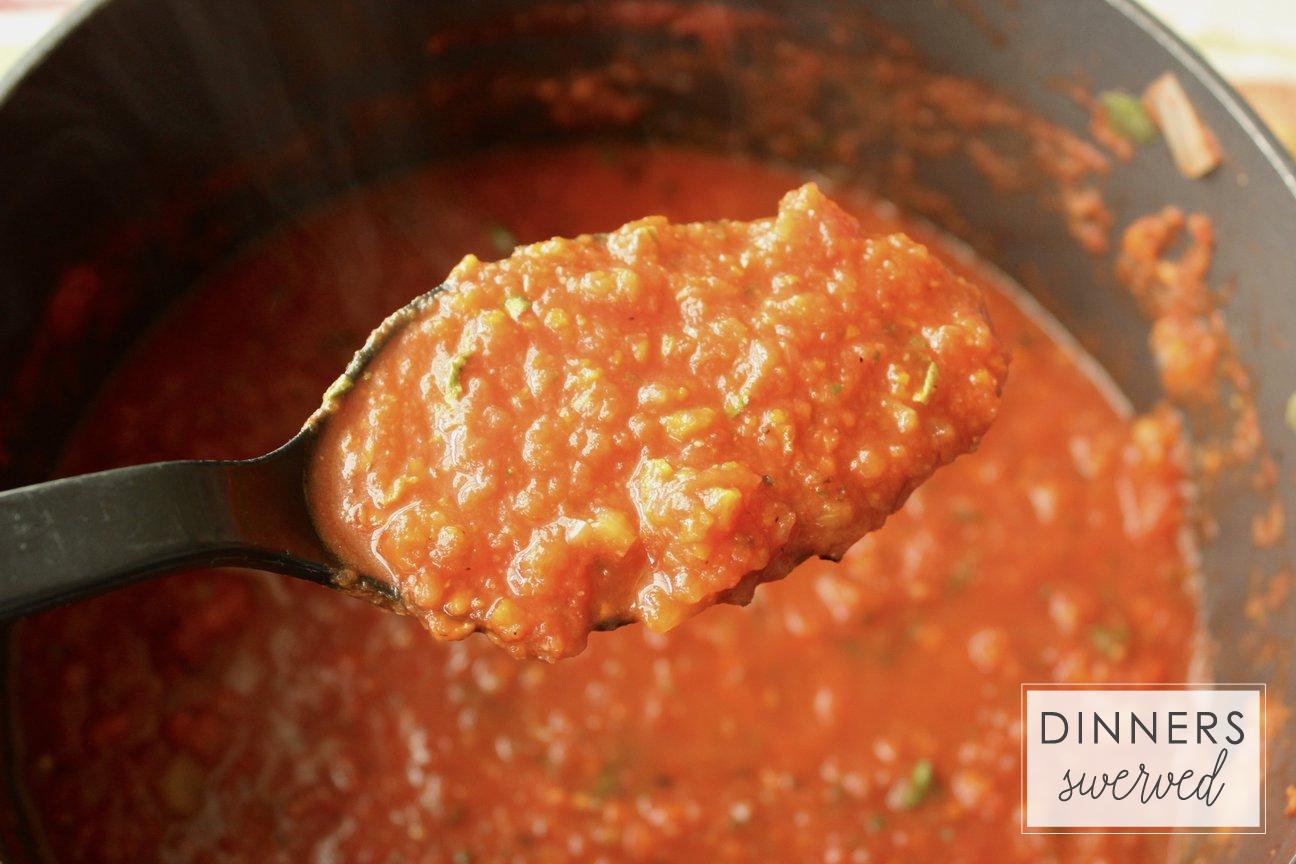 Chunky Tomato Sauce
A chunky, veggie filled, tomato sauce that is a crowd pleaser!
Recipe type:
Dinner, Sauce
Ingredients
3 Carrots, peeled and sliced in half
1 medium White Onion
3 Celery stalks, about ½ cup chopped
1½ tsp Crushed Garlic
½ tbsp Oil (grape seed, olive or coconut)
2 - 28oz cans San Marzano Tomatoes
1/1/2 tsp Salt (more if so desired)
1 tsp Black Pepper
2 tsp Dried Oregeno
⅓ cup chopped Fresh Basil
½ - 1 tsp Coconut Palm Sugar (can use another sugar if needed)
Instructions
In a preheated 375 degree oven, roast the peeled carrots and ½ of the sliced onion (can be big pieces). Roast for 10 minutes, rotate and roast for 10 minutes more (or until carrots are soft).
Heat a large pot over medium heat, add oil, the rest of the diced onion, diced celery, and crushed garlic. Sauté the the vegetables for 3-5 minutes, longer if you want your celery softer.
Once the onions and celery are done, add the canned (whole) tomatoes, spices and fresh basil, simmer for 10 minutes.
Remove carrots and onion from oven and place in a food processor, with about ½ cup sauce, pulse to break down carrots to smaller pieces and a paste starts to form.
Add all the WHOLE tomatoes to the food processor and blend until the tomatoes are broken up and a chunky sauce starts to form.
Put tomato and carrot mixture back into the sauce pan and stir together. Simmer an additional 10 minutes.
Check taste of sauce, if needed add ½ to 1 tsp of coconut sugar (other sugars can be used). You may not need any sugar, this depends on how acidic your sauce tastes. Your call. I usually add a little to sweeten the sauce just a bit.
Serve over your choice of pasta, along with a salad and/or bread.
Enjoy