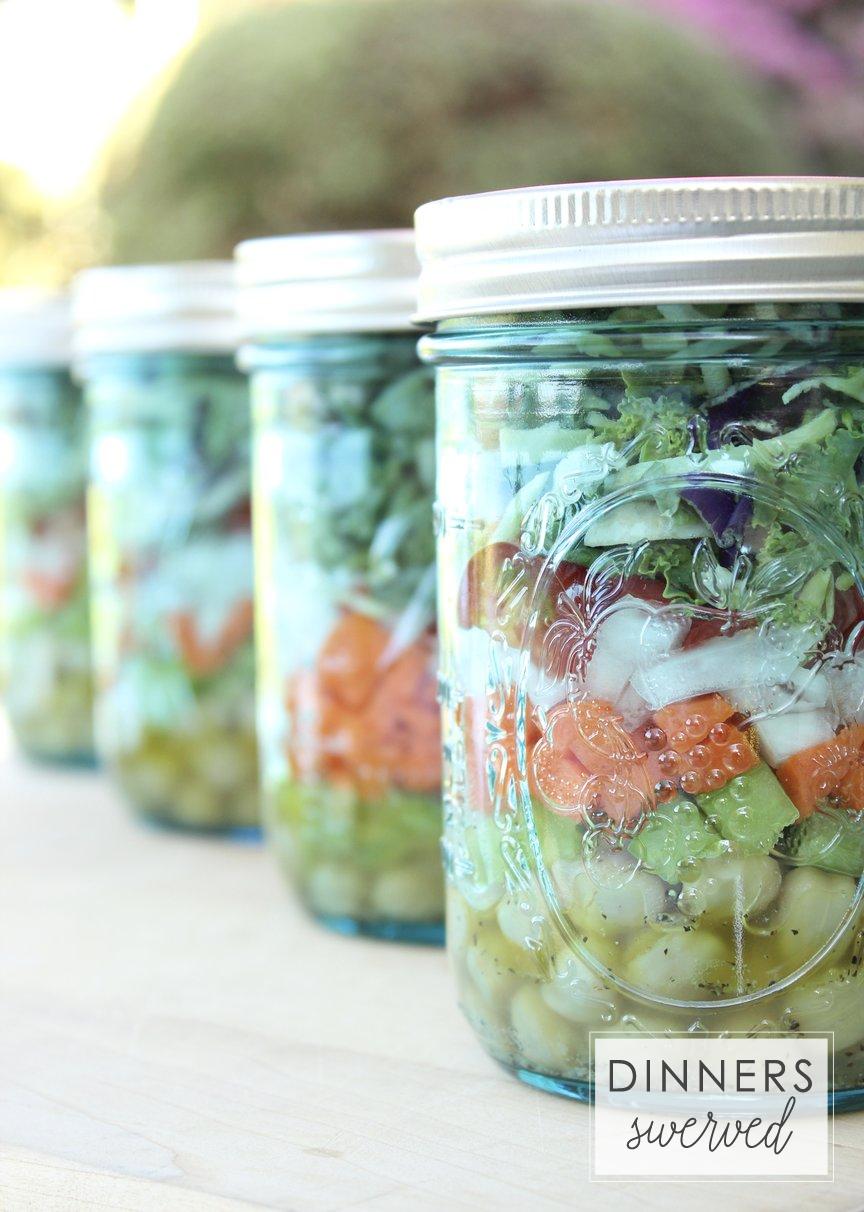 Greetings fellow foodies! By now, many of you have heard about, googled or pinned an idea or two about Mason Jar Salads. For those of you who haven't, it's about as complicated as it sounds…putting your salad (dressing and all) in a mason jar and leaving it in the fridge until you are ready to eat it. The first time my friend Jess, of JessJFitness, told me I should try prepping my salads in mason jars, I'll admit I laughed a little. Don't get me wrong, I love the idea of meal prepping. Having lunch ready for me all week? Sounds awesome, but the idea of putting everything in a jar, with the dressing and still having it be an edible dish…well it seemed pretty far fetched. I had visions of all my leftover salads I had brought home over the years, with high hopes of enjoying them the next day, only to have my dreams crushed by a sad, wilted version of the night before. (Dramatic much? Yea, probably.) However, I love trying new things in the kitchen, so I decided to give it a go. Well, much to my surprise, this meal prep technique was an amazing success! My salads stay fresh, ALL WEEK, with the dressing in the jar and are ready to go when I am. Total game changer for me people.
Remember how I hinted it wasn't complicated? Well it isn't, however the key to success with this technique is the order in which you place you salad fixin's. This is not a free-for-all here folks, there are a few rules/guidelines to follow to help make your salad a tasty dish all week. The main thing is keeping your dressing on the bottom and your lettuce/greens on the very top and you want to pack things in pretty tight…the less air in that jar, the fresher everything stays! Here is a guideline for salad making fun, this is from bottom to top:
Dressing
Hearty Veggies/Beans (beans, cucumbers, carrots, edamame, bell peppers, radishes, chickpeas, green beans, etc)
Lighter Veggies/Grain (quinoa, seeds, nuts, fruit, tomatoes, onions, corn, peas, mushrooms, broccoli, etc)
Lettuce, Mixed Greens, etc
The dressing goes at the very bottom and the reason it does, is so that it is as far away from the lettuce and other absorbable veggies as possible. The next layer is the heartier veggies, the vegetables that take a long time to get mushy. Next, comes the lighter/softer vegetables or grain that may get a little soggy if kept near dressing for a long period of time. Lastly, is your lettuce, greens, etc. If you are using a lettuce or green you have to wash before using, remember to thoroughly dry it, that added moisture will deteriorate your greens fast and make it a sad and wilted mess. As I said earlier, pack everything in as tight as possible to keep everything as fresh as can be. I usually make these on Monday and they are just as good on Friday as the are the first day I make them! I own four mason jars, so that is how many salads I make at once. I guest-a-mate the amount of vegetables to cut up and than I set up an assembly line and get to work. In under 30 minutes, I have four lunches for my week prepped and in the refrigerator. The amounts of vegetables and greens may vary from week to week, but below is an idea of the basic salad.
These particular salads are in pint sized mason jars, so all measurements are for that sized jar. For these salads I used my own home-made Citrus Vinaigrette (recipe to follow), I used about 2 1/2 tablespoons. Next, I layered in 1/3 cup chickpeas, 1/4 cup green bell pepper, 1/4 cup carrots, 2 tablespoons chopped onion, 2 tablespoons diced tomatoes and 1 to 1 1/2 cups of greens (I used the Cruciferous Veggie Mix from Trader Joes, but you can use any lettuce or green you prefer). Than I screwed on the top, leaving very little room for air in that jar, see….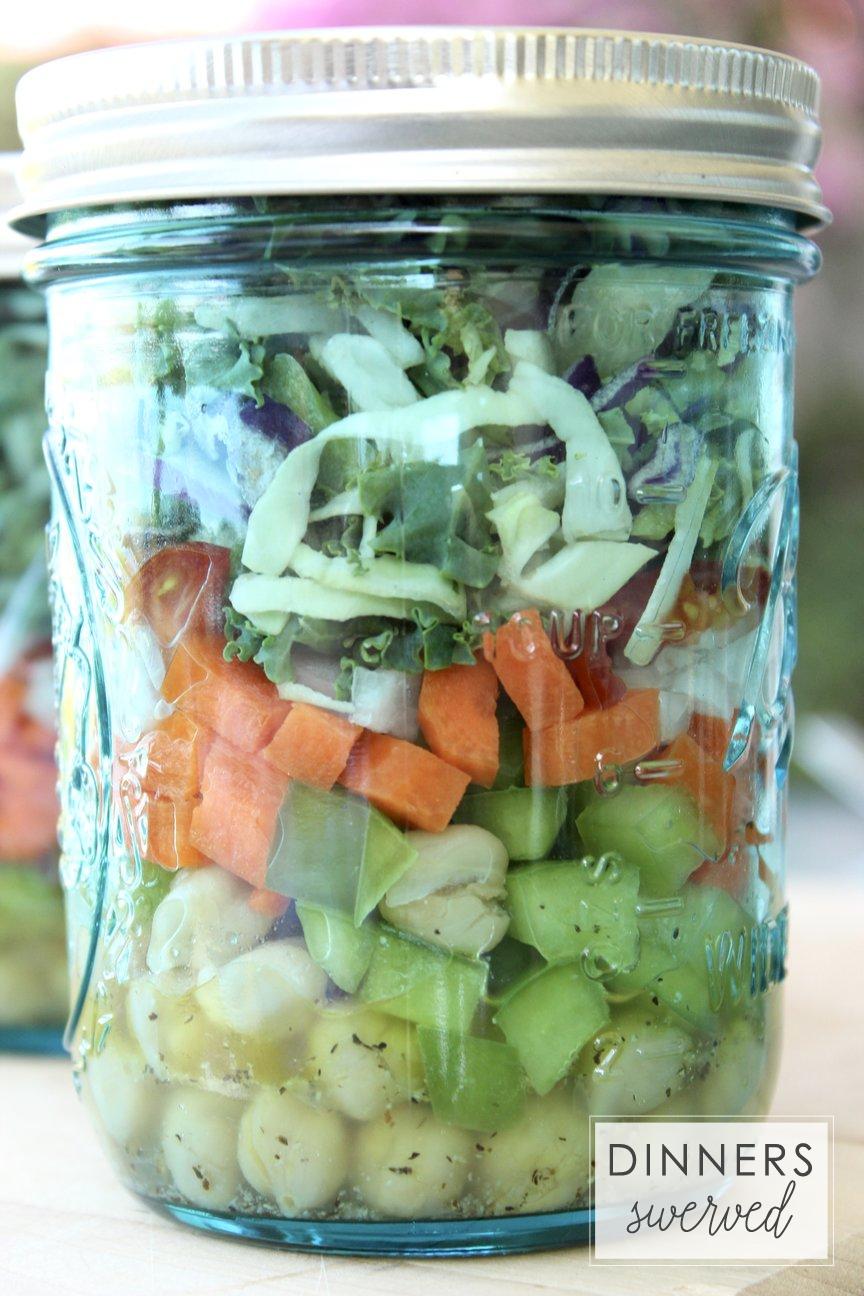 Now you may ask where the protein goes? Well a lot of people leave the protein out, as it may spoil quicker, and just add it the day of. For example, if I have left-over grilled chicken or fish, I'll add some the next day when I eat the salad. I keep boiled eggs on hand for a quick protein topper for salads as well. Or sometimes I'll just eat the salad this way, with the chickpeas being my source of protein. My advice would be to leave any animal protein out and simple add the day of, but feel free to experiment.
The great thing about this idea or technique is that it is totally customizable to you. If you want to use a quart size jar, go right ahead, just add more dressing, veggies and lettuce (remember PACK it in, no air!!). If you want to use a store bought dressing, I'm not going to know (although do me a favor and read your ingredients first, because, well…just do it). If you want to use different kinds of vegetables or different amounts, go for it!  The main point of this post was to talk to you about the technique that goes in to making this idea a success, so customize your salads however you like!
One important thing to remember is that you can't really eat your salad out of the jar, because it's so darn stuffed. So bring an extra bowl, plate or tupperware container to pour your salad into. Trust me when I tell you, it is much easier and far less messy to simply transfer your lunch to another container.
I hope you try these Mason Jar Salads, they are easy to assemble and super handy to have ready in your fridge. I also hope you try the vinaigrette, it's light and refreshing for your salads this summer and it also makes a great marinade for fish and chicken!
Happy Eating Friends!
~Nancy
**If you are looking for fitness, inspirational or health and wellness tips, check out my friend Jess at JessJFitness on Facebook and @JessJFitness on Instagram!

Citrus Vinaigrette
A light and refreshing dressing for your summer salads or marinade for your chicken or fish!
Serves:
4 Servings (2½ Tbsps each)
Ingredients
¼ cup Fresh Lemon Juice (about one Lemon)
⅛ cup Fresh Lime Juice (about one Lime)
¼ cup Extra Virgin Olive Oil (or Grape Seed Oil)
½ tsp Salt (more to taste)
½ tsp Black Pepper (more to taste)
⅛ tsp Garlic Powder
Instructions
Mix all ingredient in a bowl and whisk together to combine.
Store in an air tight bottle for up to a week.
Enjoy!