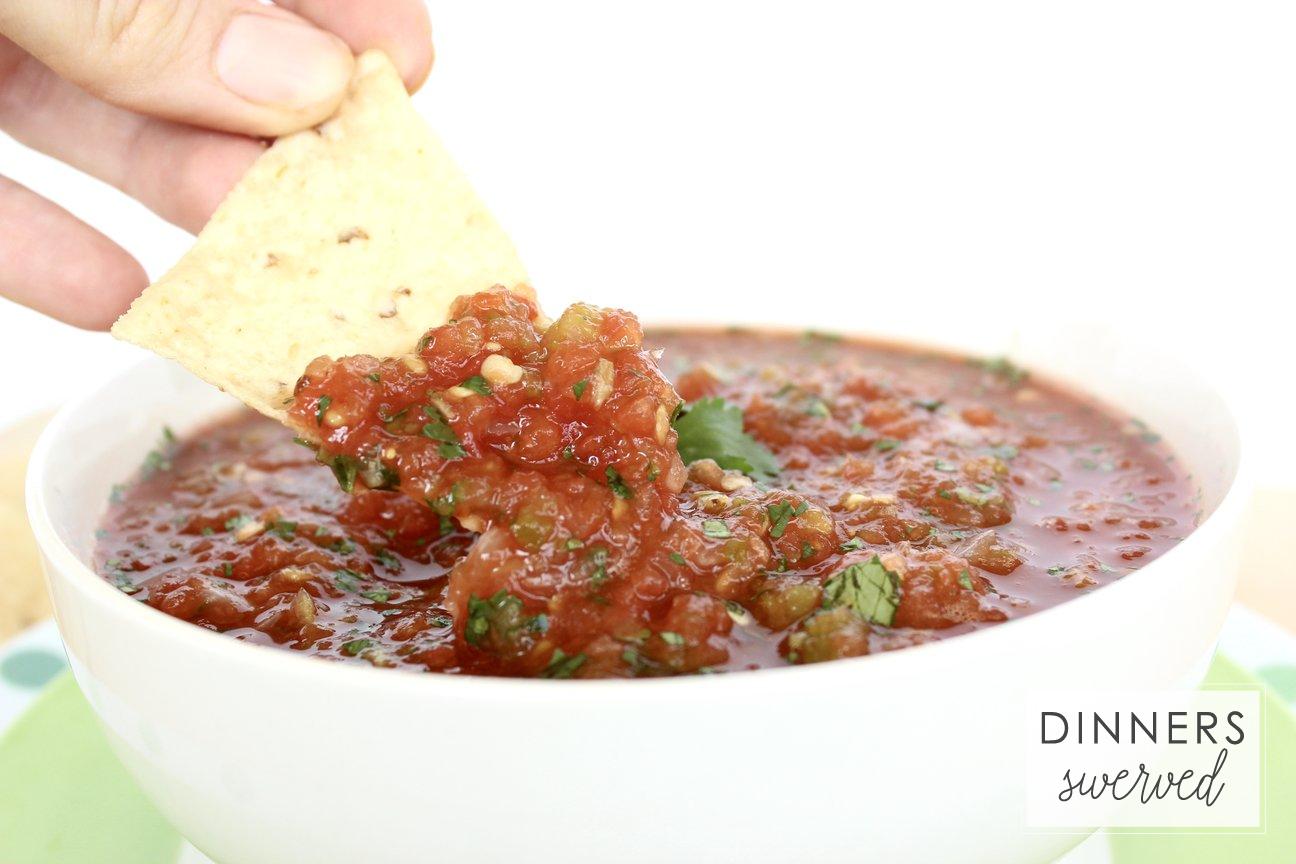 I've always loved salsa, in fact I think salsa was the first food I ever really tried "creating" without a recipe. It seemed easy enough with some canned tomatoes, an onion and a large amount of spices from my mom's spice cabinet. Fifteen years later, I'm still making salsa(s), I'm just making them a little better or at least I'd like to think I am. This recipe isn't chunky like a Pico de Gallo, but similar to the kind you are served at a Mexican restaurant. I roast the tomatoes, onions and hot peppers to really bring out their flavors and than blend them in a food processor with some lime, salt and cilantro. This salsa tastes great on tacos, enchiladas, eggs, etc., but is also pretty perfect right out of the bowl with some chips for snacking.
You may see the word "roast" and think this will be a time consuming recipe, but I promise it's relatively quick and sooooo flavorful. Plus you don't have to chop everything, your food processor does most of the work for you! I start by roasting the tomatoes, onions, and hot peppers for a total of 20-25 minutes, rotating them half way for color, and then I let them sit with foil over the top for another 20 minutes. This allows you to peel the charred skin off and makes for a smoother salsa. My husband likes a hotter salsa and I like medium heat level, so to compromise I like to use Jalapeños and Serrano peppers in my recipe and the heat level usually ends up being a "medium-hot". If "medium-hot" is too hot for you and your family, consider using just a few Jalapeños or whatever milder pepper you like. I'm all about customizing a recipe, so you will not hurt my feelings if you do!!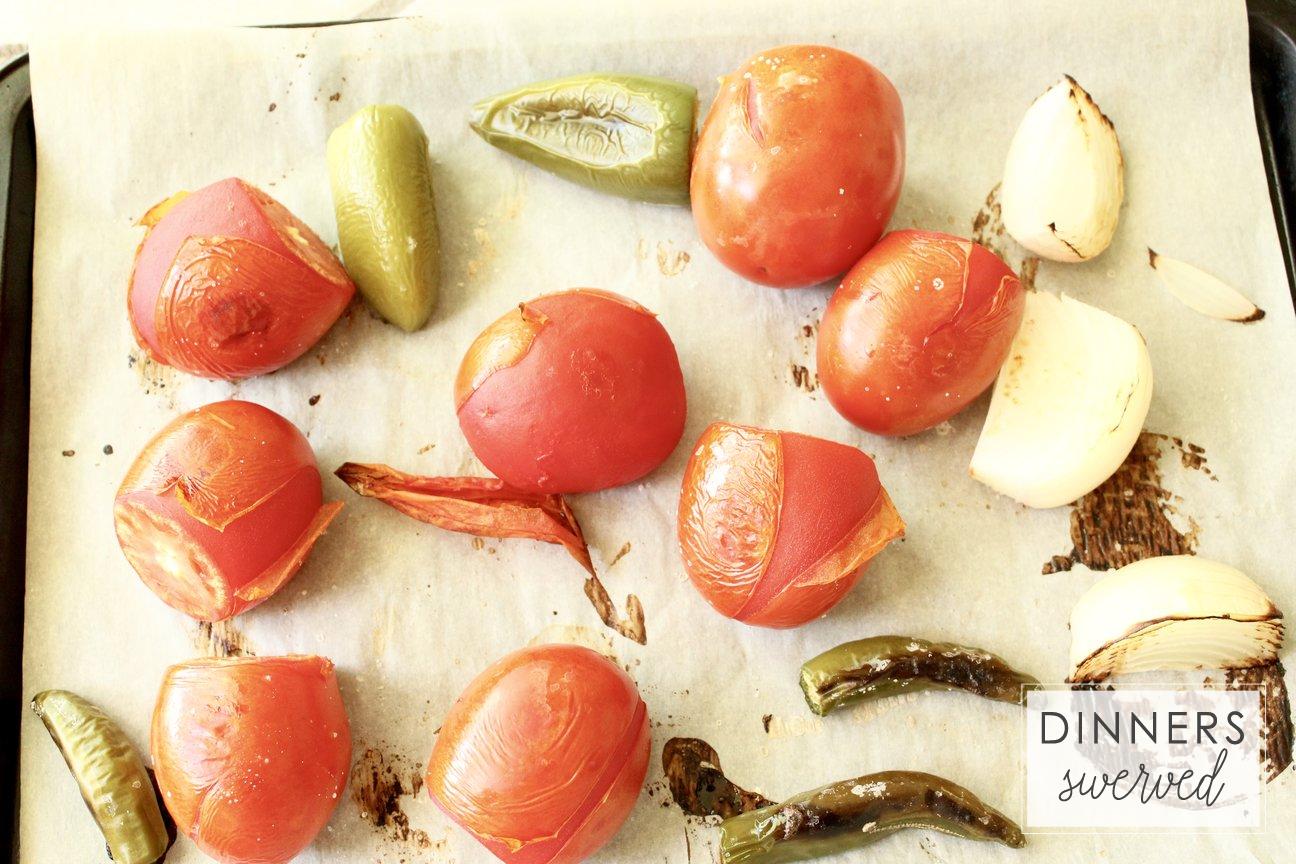 After 20-25 minutes in the oven, this is what your tomatoes, onions and peppers will look like.  Cover the pan with foil and allow to sit for another 20 minutes or until the skins come off easily. (When roasting veggies I line the baking sheet with parchment paper for an easier clean up. If you don't have any, simply spray your baking sheet well to avoid sticking.)
Next, I blend the ingredients together in two batches to avoid the salsa from getting too soupy. I do half the tomatoes, onion, and peppers along with half the lime, cilantro and salt, pour into a bowl and than repeat with the rest of the ingredients. **A tip to remember: Salt your salsa AFTER you put your lime juice in. The lime juice and salt hit the same tastebuds on your tongue and you may find you use less salt if you put the lime juice in first! This helps avoid over salting your salsa.
This salsa is a family favorite and a go-to condiment at our house, we love it on everything, but mostly we love it for snacking! Try making a batch this weekend and enjoy it with your favorite tortilla chips!
Happy Eating!
~Nancy

Restaurant Style Salsa
A delicious blend of roasted tomatoes, peppers, and onions make a flavorful salsa you will love!
Recipe type:
Sauce or Side
Ingredients
8 Roma Tomatoes
½ large White Onion, quartered
3 Serrano peppers
2 Jalapeño peppers
1 Lime
1 Bunch Cilantro, washed
¾ - 1 tsp Salt, extra to sprinkle on roasting pan
Instructions
Preheat oven to 425 degrees
Put tomatoes, hot peppers, and onions on a parchment lined baking sheet (or liberally sprayed baking sheet)
Lightly sprinkle vegetables with salt
Roast for 10 minutes, rotate veggies, and then roast 10-12 minutes more (until skin has some charring)
Remove pan from oven and cover for 20-30 minutes
Peel skin off tomatoes and peppers
In a food processor blend 4 tomatoes, ½ the onion and 2 peppers (1 Jalapeño and 1 Serrano), ½ a lime, and a small handful of cilantro
Pulse a few times, until the salsa starts to break down and than add ¼ tsp salt...taste, than add an additional ¼ tsp of salt if needed
Pulse a few more times and then pour into a bowl
Repeat with the remainder of the tomatoes and onions, add 2-3 more peppers (depending on your heat level), another small handful of cilantro, and ½ of lime
Pulse a few times, taste and add ¼-1/2 tsp of salt if needed
Pulse a few more times and then combine with first half of salsa
Enjoy immediately or refrigerate until needed