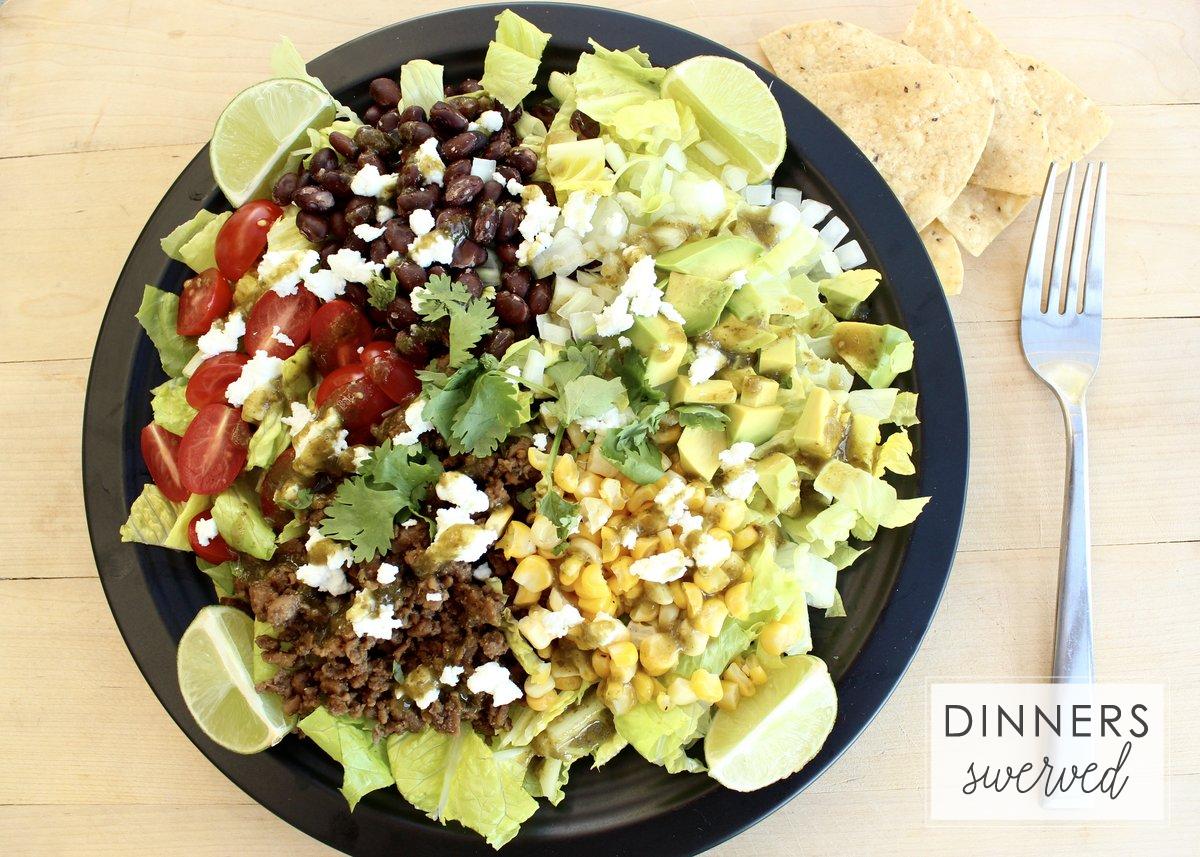 It's Taco Tuesday and also, apparently, National Taco Day as well! Who know there was such a day? Not that I'm complaining, but every day is National Taco Day in my house. We love them for breakfast, lunch, dinner and ,on rare occasions, dessert! Today, I'm taking my taco fixin's and making a top notch Taco Salad. I'm saving the calories from the tortilla and heavy dressings, but not to fear, this salad packs a in the flavor!
I start out by making my taco seasoning, because I like to control what goes in my food and quite frankly, it just tastes better. It's got cumin, garlic powder, oregano, salt and pepper….your basic taco flavorings minus the MSG and other unpronounceable preservatives.  This recipe works for ground Turkey, Chicken, Beef or Vegan "meat" as well. If I'm using ground beef, I will add my spices after I drain the meat, to avoid losing the flavor. Once the meat is cooked and seasoned, it's time to make our salad!
The salad starts out with crunchy bed of romaine lettuce, I layer the warm beans and cooked meat on top of the lettuce, surrounded by the juicy tomatoes, sweet corn, zesty onion, and creamy avocado. Now, nothing I've added so far is crazy or unheard of, but the next few ingredients is what makes this salad what it is! I top it with a few squeezes of fresh lime juice, cilantro, tangy Goat Cheese and the last thing….Green Dragon Sauce. The Green Dragon Sauce I love is from Trader Joes, its a hot Salsa Verde type sauce and it is good on everything from Asian food to Mexican and everything in between. It's my new Sriracha, although I'd say Green Dragon is a bit spicier than Sriracha and it's heat combines perfectly with the creamy goat cheese. If you can't find Green Dragon Sauce, try a medium-to-hot Salsa Verde, the tomatillo and jalapeño base will give it the right flavor with the Goat Cheese.
This salad is a great Taco Night alternative because it's not laden with calories from heavy sauces or tortillas, it's fresh, easy and most importantly, it's dang delicious. I hope you try it soon!
Happy Eating!
~Nancy

Taco Salad with Goat Cheese and Green Dragon Sauce
A light and flavorful alternative to Taco Tuesday!
Recipe type:
Lunch or Dinner
Ingredients
1 lb Grd Turkey, Chicken, Beef or Vegan Meat Alternative
2 Tbsp Olive Oil or Grape Seed Oil
Taco Meat Seasonings
2 Tbsp Cumin
1 Tsp Garlic Powder
1 Tsp Salt
1 Tsp Black Pepper
1 Tsp Dried Oregano
¼ -1/2 Cup Water
For Salad (these measurements are for one salad):
2-3 Cups Shredded Romaine Lettuce
½ - ⅔ Cup Cooked Seasoned Ground Meat
⅓ Cup Black Beans, drained
¼ Cup Chopped Onion
¼ Cup Grape Tomatoes (can halve)
¼ Cup Corn (thawed, fresh or grilled is fine)
⅓ chopped Avocado
½ Lime
1 inch piece of Goat Cheese
Green Dragon Hot Sauce or Salsa Verde
Sprinkle of fresh Cilantro
Instructions
Heat a large skillet over med heat
Once skillet is hot, drizzle with oil
Add ground meat of choice, cook until no longer pink
While meat cooks, prepare the veggies for your salad
Heat black beans over med/low heat until warm, remove from heat and set aside
Drain meat if needed
Add all spices for Taco Seasoning into skillet with the ground meat and mix thoroughly
Add ¼ cup water and stir, add more if mixture seems dry
Simmer on low for 3-5 minutes
Mixture is ready to be added to salad
Layer romaine, black beans, ground meat, along with the tomatoes, onions, corn and avocado
Add the Goat Cheese and a few drizzles of Green Dragon Sauce
Sprinkle with Cilantro and a squeeze or two of fresh lime juice
Ready to Enjoy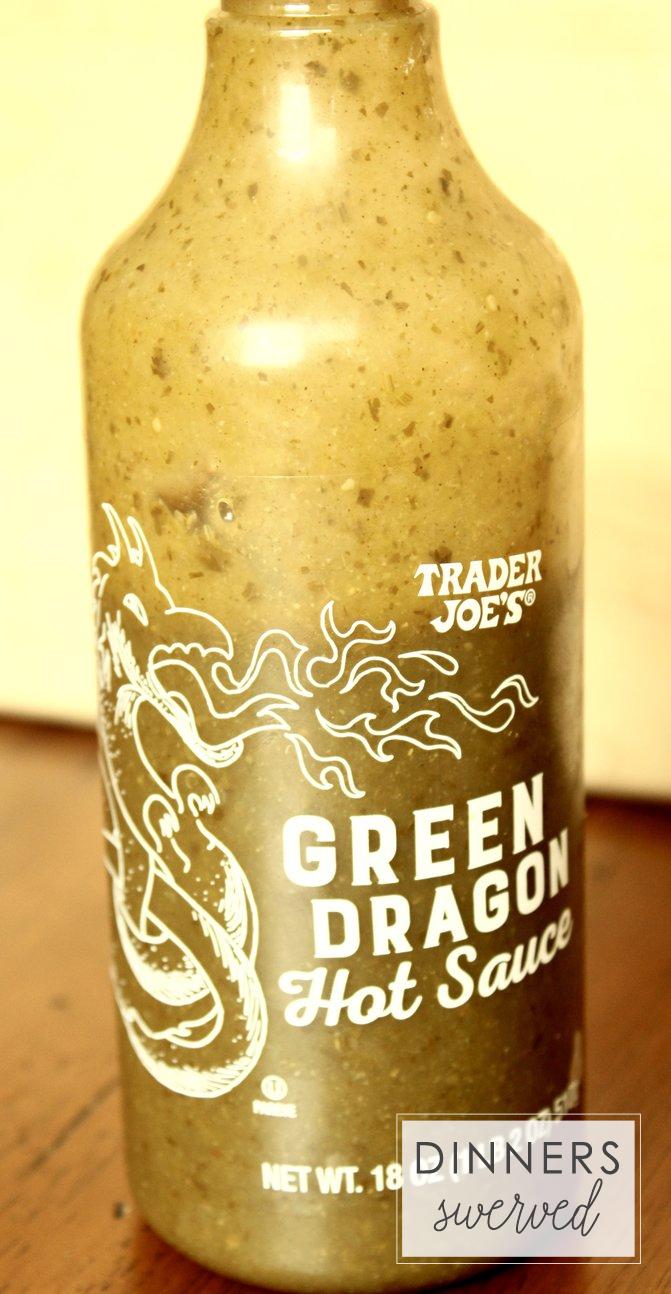 Here is a picture of my favorite Green Dragon Sauce, for reference!
****The measurements for the salad are completely changeable. If you want more meat, go for it. If you want more beans and no tomatoes, so be it. That part of the recipe is more of a guide than a strict "must follow". Remember to have fun in your kitchen…it's Taco Tuesday after all!