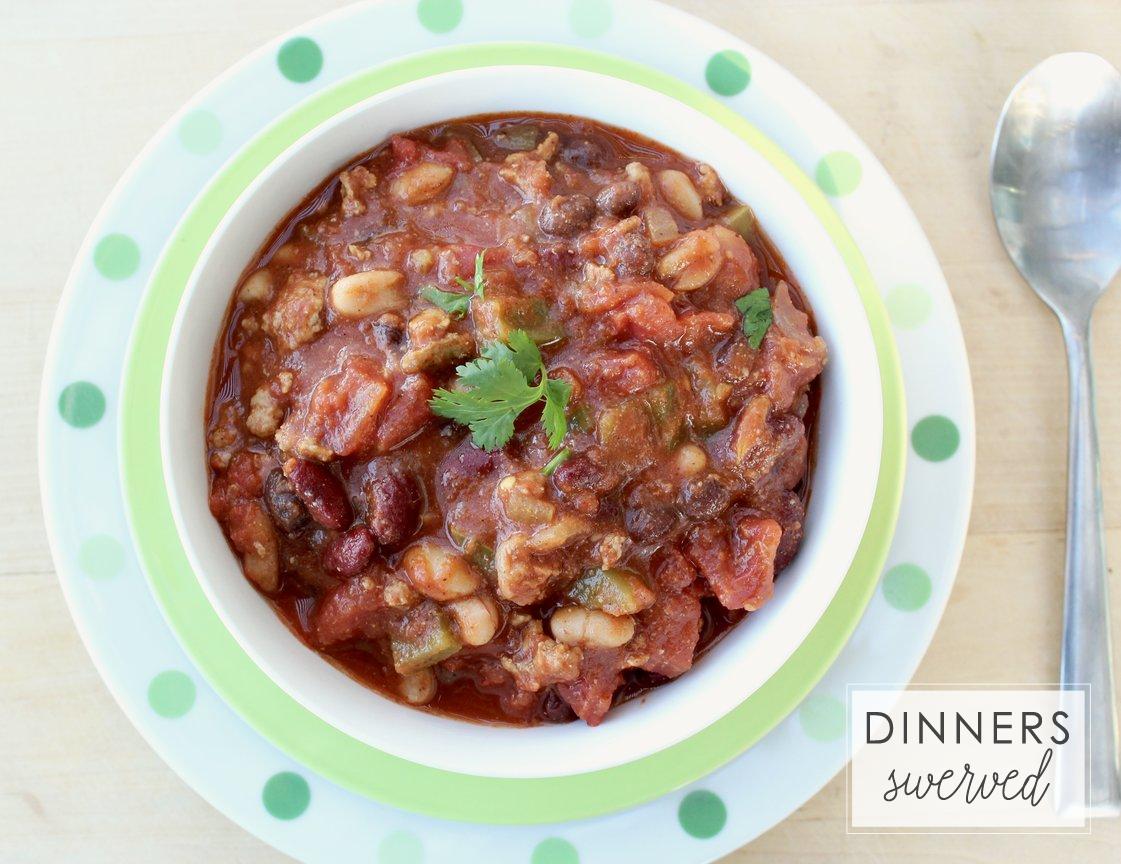 It's Fall and you know what that means?!?! Soup Season is officially here and we all know how much I love soup! Now, "Fall" can actually be pretty darn hot here in Southern California, but this week the temperatures dipped below 70 degrees, so I took advantage of the "cooler" temps and made some Turkey and Bean Chili. This Chili is healthy and hearty and is the perfect weekend or weeknight meal!
I use ground turkey in my chili and I like the 85/15% rather than the 90/10% ratio, because it's less dry and has a good flavor. I also LOVE beans in my chili, I use three cans so you can tell that love is real. I like a mixture of Black, Kidney and Navy beans, however you can choose what ever beans float your boat or whatever is in the cupboard.  I add cans of crushed tomatoes and diced tomatoes and only a little chicken stock, because I like my chili really thick. (You can add more stock if you want it thinner) I add a bell pepper and a large onion as well. My seasonings are fairly normal, Cumin, Salt, Pepper, Garlic, Cayenne Pepper, and Chili Powder. Now, I don't really love Chili Powder, I know that's weird because I love chili, but Chili Powder is my least favorite spice. I do use it in this recipe, because I'll admit its needed, but I also use Ancho Chili powder in it as well, it gives it a smokey flavor without a lot of heat. If you can't find Ancho Chili Powder or simply only want to use regular Chili Powder, that's ok, I just like to mix it up a little bit. I know I have a few "hotter" spices listed, but don't think this is a hot chili, because it isn't. It's a mild/medium flavor and perfect for everyone in the family.
This Chili comes together relatively quickly and it's hearty and healthy! Top with your favorite chili toppings and enjoy the comforts of Fall!
Happy Eating!
~Nancy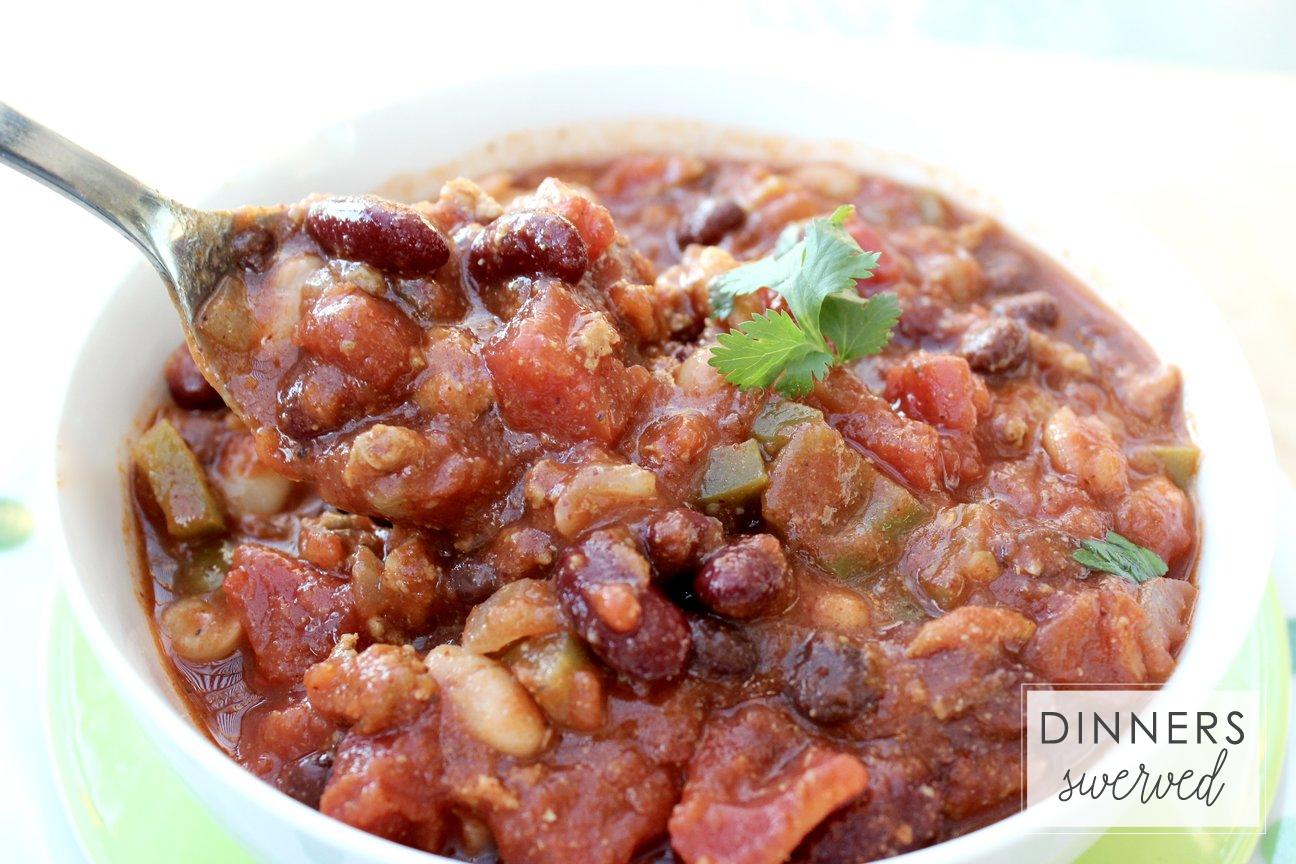 Turkey and Bean Chili
A hearty and healthy take on Turkey Chili
Ingredients
1lb Ground Turkey (85/15% Lean)
¾ cup White Onion, diced
1 - 1½ Bell Pepper, diced (1 large or 1½ medium sized pepper)
2 cans Green Chilies
1 28oz can Diced Tomatoes (with juice)
1 28oz can Crushed Tomatoes
3 15oz cans of Beans, drained (Black, Kidney, Navy, Chili, Pinto, etc...your choice)
1¼ - 1½ cup Chicken Broth (Start with 1¼ cup and add more if needed)
Spices:
2½ Tbsp Cumin
2 tsp Ancho Chili Powder (can omit and just use Chili Powder if desired, increase Chili to 2½ tsp)
1 tsp Chili Powder
1 tsp Salt
1 tsp Black Pepper
½ tsp Garlic Powder
¼ - ½ tsp Cayenne Pepper (start with ¼ and increase if more heat is desired)
2 Tbsp Olive or Grape Seed oil
Optional Toppings:
Green Onions
Sour Cream or Greek Yogurt
Shredded Cheese
Crackers or Tortilla Chips
Instructions
Heat skillet over medium heat
Drizzle 2 tablespoons of oil into hot pan
Saute onion in pan until translucent (approximately 3-5 minutes)
Add Turkey Meat and brown for 8-10 minutes until cooked
Add bell peppers and canned chilies, stir
Add all spices, stir to coat vegetables and meat, cook 2 minutes
Add tomatoes and drained beans, stir
Add 1¼ cup chicken broth and stir
Simmer for 20 minutes, check thickness and add more broth if thinner chili is preferred
Serve with favorite chili toppings