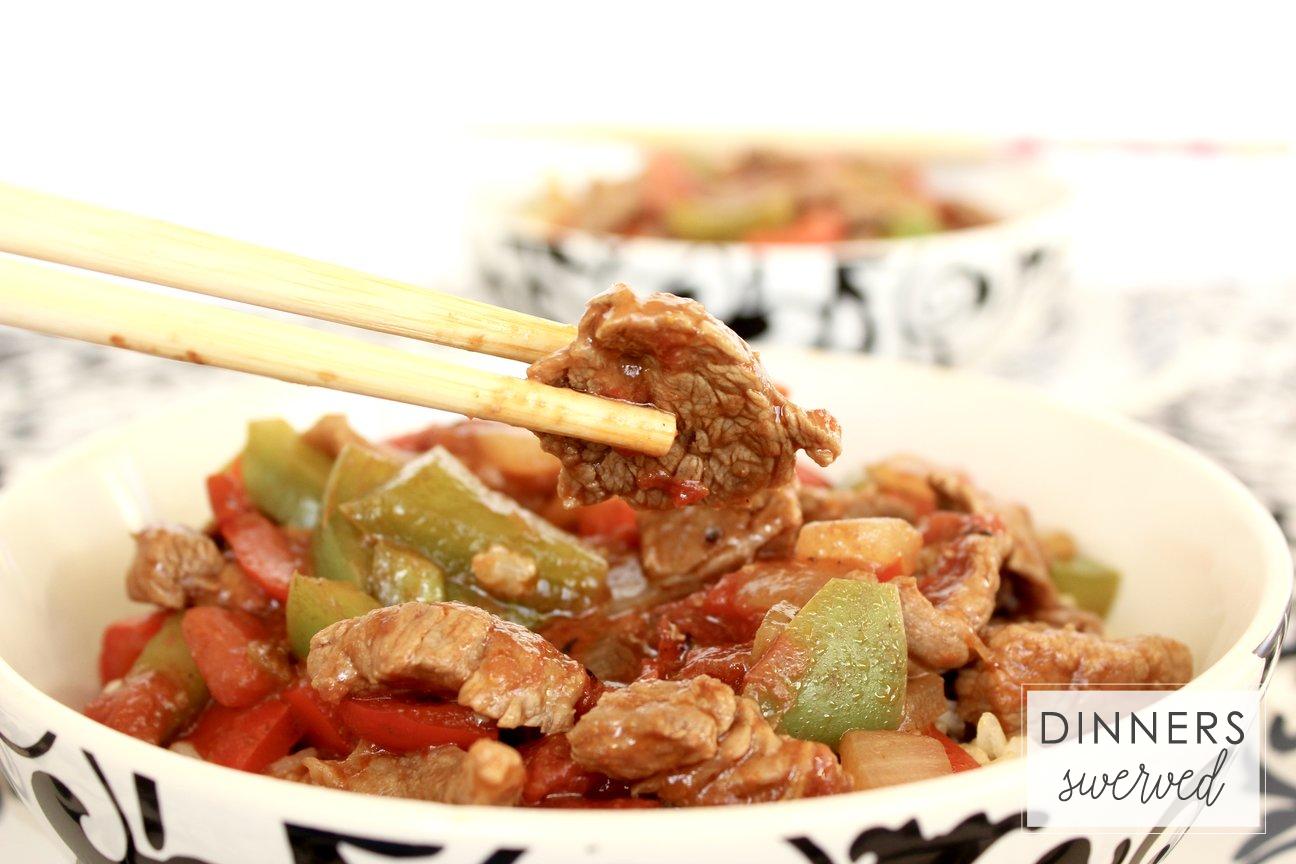 Pepper Steak is one of those classic comfort foods, at least for my husband. He requests it at least once a month, if not more often and even my kids are starting to enjoy it (okay they really only want the steak part, but that's progress). It's hearty and filling, but this version is also pretty healthy. My Mother and my Mother-in-law both make great Pepper Steak and their recipes are pretty similar, so I adapted this recipe to be a cleaner version of their's.
I start out by heating a pan with both olive oil and butter, rather than just one or the other, because butter gives the onions and meat a nice flavor and the olive oil is a little more heart friendly. Now if you want, you could just use butter or just use oil, but I like the combo. I then add the onions and let them cook for a few minutes, I like my veggies in this dish to have crunch still, so 2-3 minutes is enough. Then I add the cut up steak to the onions and let that cook around 8-10 minutes, until the steak has color on all sides and is mostly cooked through. Next, I add the canned tomatoes and sliced peppers, followed by the Tamari or Soy (Tamari is basically gluten free Soy Sauce) and the Worcestershire Sauce. My Mother-in-law always swore by a 2:1 ratio Soy/Worcesterhire and that is the ratio I stick with. I usually add 2 tablespoons Tamari and 1 tablespoon Worcestershire at first and then add more later if needed, sticking with the 2:1 ratio. I let all this simmer for 5 minutes to let the flavors start to meld together. While its cooking, I mix up a Corn Starch Slurry (1:1 ratio tablespoon corn starch with one tablespoon warm water whisked together) to help thicken the "gravy" that the tomatoes make. Some people use flour, but I want this to be gluten-free, so corn starch is my answer. If you are allergic to corn or avoid corn, you may be able to thicken the sauce with ArrowRoot Powder, but I've not personally tried that. I pour in the "slurry" and stir, then I let everything cook together for about 10 minutes. This allows the sauce/gravy to thicken, the flavors to really mix together, and the peppers to cook. After the 10 minutes, I taste the Pepper Steak, usually I find it needs a little more of my Tamari/Worcestershire combo, I keep the 2:1 ratio in mind and start by adding 1 tablespoon of Tamari and 1/2 tablespoon of Worcestershire, if you need a little more go for it. Both of these sauces have a lot of sodium in them,  I add them sparingly so I do not make the dish taste too salty. Once the Pepper Steak is done, serve over warm brown rice or quinoa.
If you are looking for an easy weeknight dinner, this dish is perfect for you. It's easy, delicious, and pretty darn tasty!
Happy Eating!
~Nancy

Pepper Steak
A healthy twist on an family classic!
Ingredients
1 - 1½ lb of Flank or Skirt Steak, cubed or sliced in 1" pieces
3 cups Bell Peppers, chopped to 1" pieces (about 2 peppers)
2 cups Onion, chopped to 1" pieces (about 1 large onion)
1 15 oz canned Tomatoes, with juice
4 Tbsp Tamari or Soy Sauce (may use less)
2 Tbsp Worcestershire Sauce (may use less)
1 Tbsp Corn Starch
1 Tbsp Warm Water
1 Tbsp Olive Oil
1 Tbsp Butter
Brown Rice and Quinoa for serving
Instructions
Heat a large pot or high sided pan, over medium heat, add oil and butter
Add chopped Onion, cook for 3 minutes
Add chopped Steak, cook until there is color on all sides and cooked through, about 8-10 minutes
Add canned tomatoes (with juice) and chopped Peppers
Add 2 tbsp Tamari/Soy Sauce and 1 tbsp Worcestershire Sauce
Simmer 5 minutes
Mix Corn Starch and Warm Water together, add to Pepper Mixture and stir to combine
Reduce heat to medium/low and simmer for 10 minutes
Taste Pepper Steak, more seasoning may be needed. Add 1 tbsp Tamari/Soy and ½ tbsp Worcestershire Sauce (may use more if needed, remember 2:1 ratio)
Cook 1-2 minutes more
Serve over warm Brown Rice or Quinoa