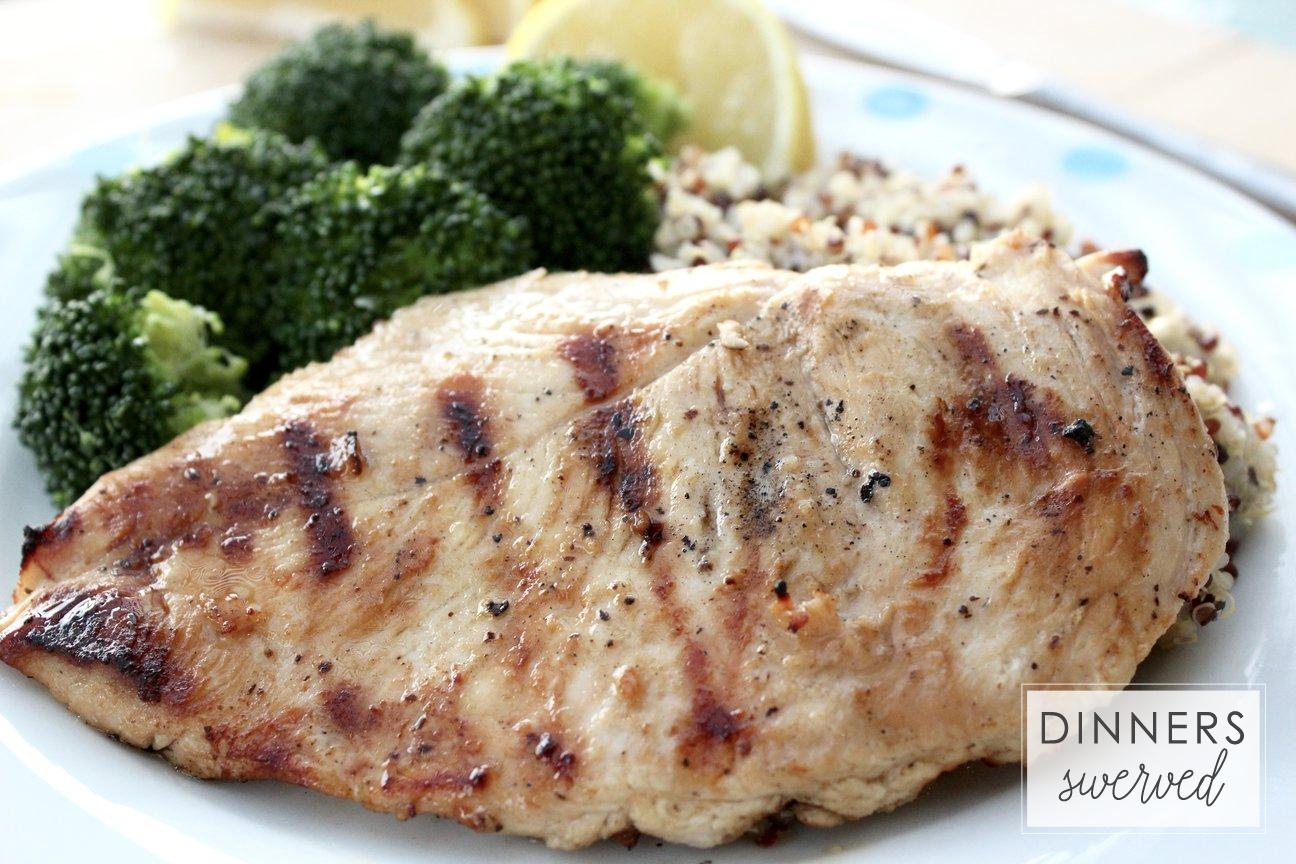 Grilled Chicken, is there anything easier on a week night? As simple as grilling chicken is, plain grilled chicken takes me to snooze-ville pretty fast, so I created this marinade to help combat "Grilled Chicken Bored-ness" (What? Its a real thing … that I just made up).  Like many of my recipes, this Citrus Chicken is more about a method and ingredients are easily changed up to keep you excited about your dinner.
I used fresh lemon juice for today's recipe, but I've done this with lime or a mixture of lime and lemon juice, so feel free to mix it up. The seasonings are also not written in stone, if you don't have Lemon Pepper on hand, just use black pepper, if you don't want to add onion powder…fine, skip it. I've also added fresh cilantro or basil in the past, to jazz it up.  The key is the ratio of 1/3 cup juice to 1/4 cup oil, this seems to make the perfect marinade base. Grilling is not mandatory, if you'd rather cook in a skillet on your stove or bake in the oven, go right ahead. I just like to grill because its faster and an easier clean-up for me on those post-sports activity, pre-homework filled nights.
Pair this with a veggie and rice or quinoa and you have a super healthy and super easy dinner! I promise this is a hit for everyone at home!
Happy Eating!
~Nancy

Citrus Chicken
A super simple marinade to jazz up your gilled or baked chicken.
Recipe type:
Citrus Chicken
Ingredients
⅓ cup fresh Lemon or Lime juice (or combination)
¼ cup Grape Seed or Olive Oil
½ tsp Salt
½ tsp Lemon Pepper Seasoning
⅛ tsp Black Pepper
¼ tsp Garlic Powder
¼ tsp Onion Powder
1 Lemon or Lime to squeeze over grilled chicken
1 - 1½ lbs Chicken Breasts or Tenders
Instructions
Mix citrus juice, oil, and seasonings together
Pour over chicken in a glass dish
Let marinate for a minimum of 30 minutes, longer is fine, just place in refrigerator if longer than 30 minutes.
Rotate chicken occasionally to insure marinade is coating the chicken
Heat Grill to a medium heat level
Grill each side for 5-6 minutes (depending on thickness of chicken), until juices run clear
Remove from Grill
Squeeze fresh citrus over top
Serve with Rice/Quinoa and a Vegetable
**if marinating longer than 30 minutes in refrigerator, remove 15 minutes before grilling