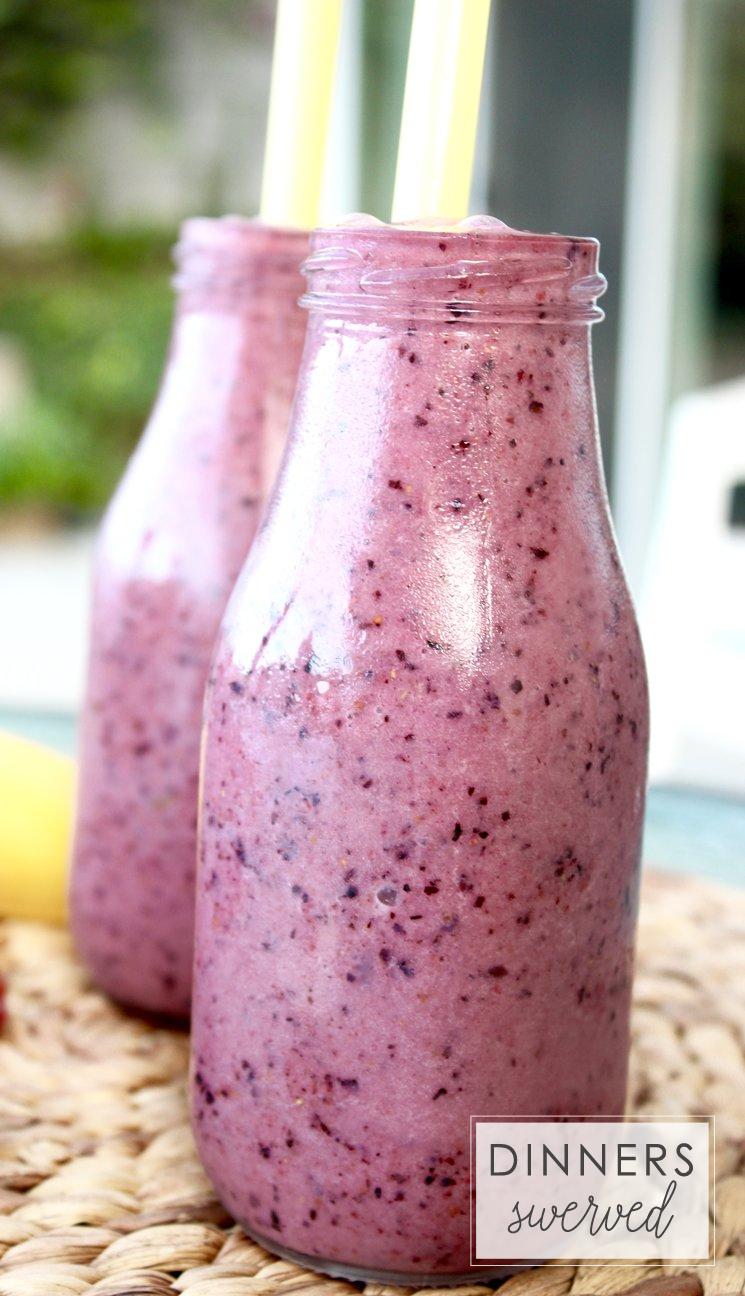 My boys love smoothies, they especially love going out for smoothies to a particular smoothie shop that is both conveniently and inconveniently close. It's a perfect place to entice my children to walk to on a warm summer day, however it's so close my children feel they should be allowed to go all the time. They both love a particular blueberry smoothie, it's sweet and delicious and after looking at the sugar content I know why it's so good…. it has over 30 grams of sugar in a small cup! That's a LOT of sugar for a little person!  I decided I could make something similar at home, saving me money and my children the sugar overload.
I tried making this smoothie several times and while none of them were "bad", they weren't the replica my boys were hoping for. I finally started adding orange juice to this smoothie and "BAM" the missing link! The consistency and taste finally came together. I use frozen berries and frozen bananas, as I think it gives the smoothies a slush-ier texture, however fresh berries or bananas can be used, but you may want to add ice to the smoothie if you use fresh fruit. You know I like options so here are a few for you: I like blueberries, strawberries and cherries in this smoothie, however if you don't have cherries, just use more of the other berries and it will still taste great! Also, I like to use unsweetened Almond Milk, you can choose to use whatever milk you choose, but dairy milk will result in a creamier consistency. You can't really screw this up, so be creative!
The next time you are looking for a healthy snack for you or your kids, try this smoothie! It's refreshing, naturally sweet, and it's kid approved!
Happy Eating,
~Nancy

Berry Smoothie
A refreshing and healthy berry smoothie!
Serves:
apprx. 2 smoothies
Ingredients
1 frozen Banana (fresh can be used for a creamier texture)
1 cup frozen Blueberries
½ cup frozen Cherries
½ cup frozen Strawberries
1 cup Unsweetened Almond Milk (can use any milk you choose)
⅓ cup Orange Juice
¼ - ½ cup Cold Water (optional if smoothie is too thick)
***if you do not have frozen cherries, up the blueberries to 1½ cup and strawberries to 1 cup
Instructions
Add all ingredients in a blender
Blend until well combined, about 1 minute
If consistency is too thick, you may add water ¼ cup at a time until desired consistency is achieved (you may add more milk in place of water if you choose)
Serve immediately