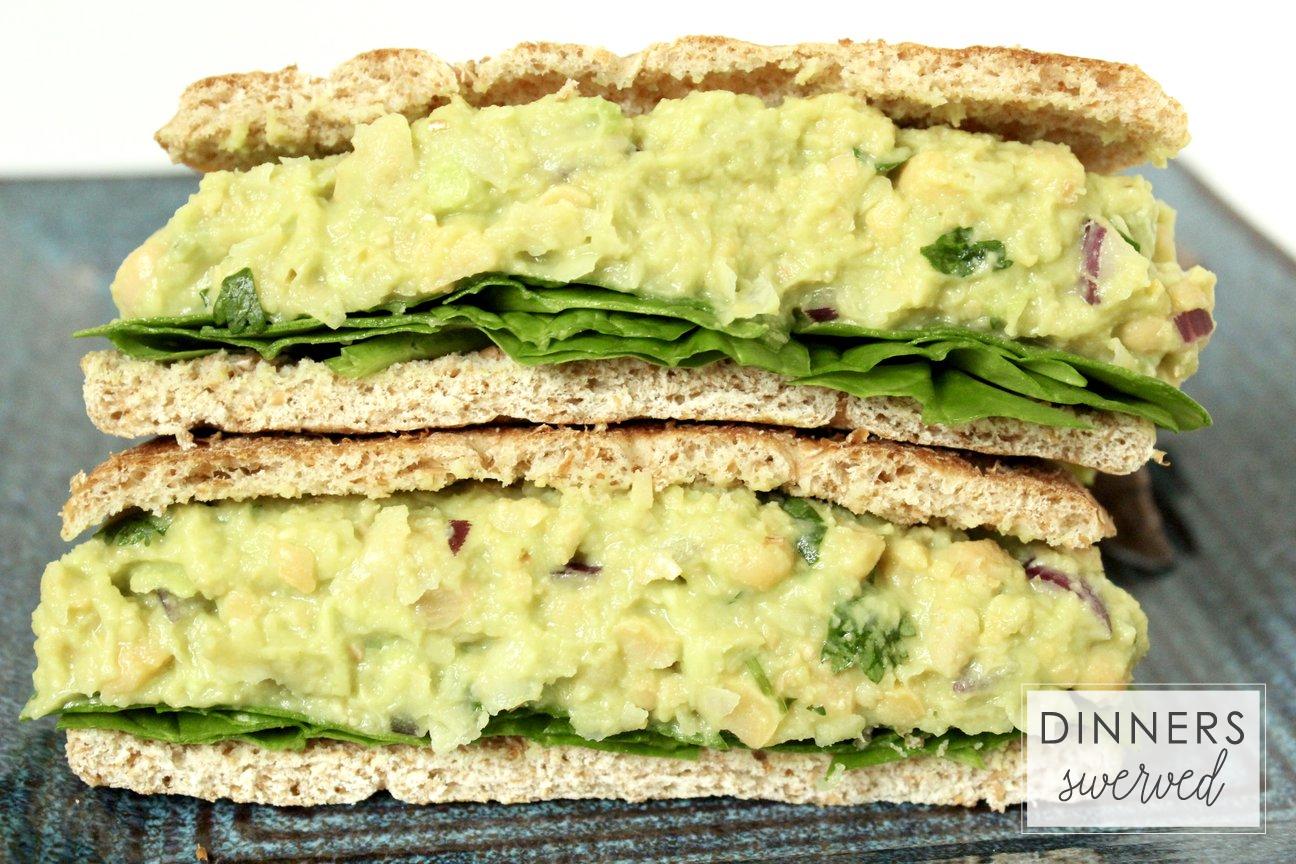 Happy 2017! Can you believe it's the middle of January? I feel like Winter Break flew by and it was surprisingly hard to get back into the swing of things when the kids went back to school. However, I feel like I've finally got a handle on everything and can resume normal scheduled programming, i.e…blogging about some pretty awesome dishes! Let's talk about this one in particular – Chickpea and Avocado Spread.
This dip or spread is basically the love child of Guacamole and Humus, it's all things delicious.  It has creamy avocado, hearty chickpeas (garbanzo beans), zesty red onion, cilantro, salt and lime…like I said ALL THINGS DELICIOUS. I've made this for years and if there is one tip I can give you, don't make it when you are alone in the house. It's so dang tasty that you will just continue to snack on it and, well, eating it all in one sitting may defeat the healthy benefits from this dish. Although, I may have eaten a whole bowl a few times and felt very little guilt about it, so I will hardly judge you if you don't wish to share.
Start by mashing the drained chickpeas until you've reached your desired consistency, add the avocado, mash some more, than add the rest of the ingredients…done! Now your biggest decision is how to eat this dish of awesomeness. Sometimes, I like to eat it on whole grain bread with spinach, sprouts and tomatoes. Sometimes, I simply like to use tortilla chips and munch until my hearts content. Some might say the best way would be to do both, but I will let you decide!
This spread is a hit in my house and I'm sure it will become a go-to vegetarian option in yours, try it today!
Happy Eating!
~Nancy

Chickpea and Avocado Spread
A hearty vegetarian spread, perfect for sandwiches or snacking!
Cuisine:
American, Mexican
Ingredients
1 15oz can Chickpeas/Garbanzo Beans, drained
1 large or 2 small Avocados
1½ - 2 tbsp Red Onion, finely diced (more or less to taste)
1 tbsp Cilantro, finely chopped
1 Lime, juiced
½ - 1 tsp Sea Salt, (more or less to taste)
Instructions
Drain chickpeas
In a large bowl, mash chickpeas to desired consistency (I like my a little chunky)
Add avocado(s), mash until blended with chickpeas
Add diced red onion, cilantro, lime juice, stir to combine
Add salt, start with ½ tsp and add more if desired
Stir to combine
Enjoy as a sandwich or as a dip