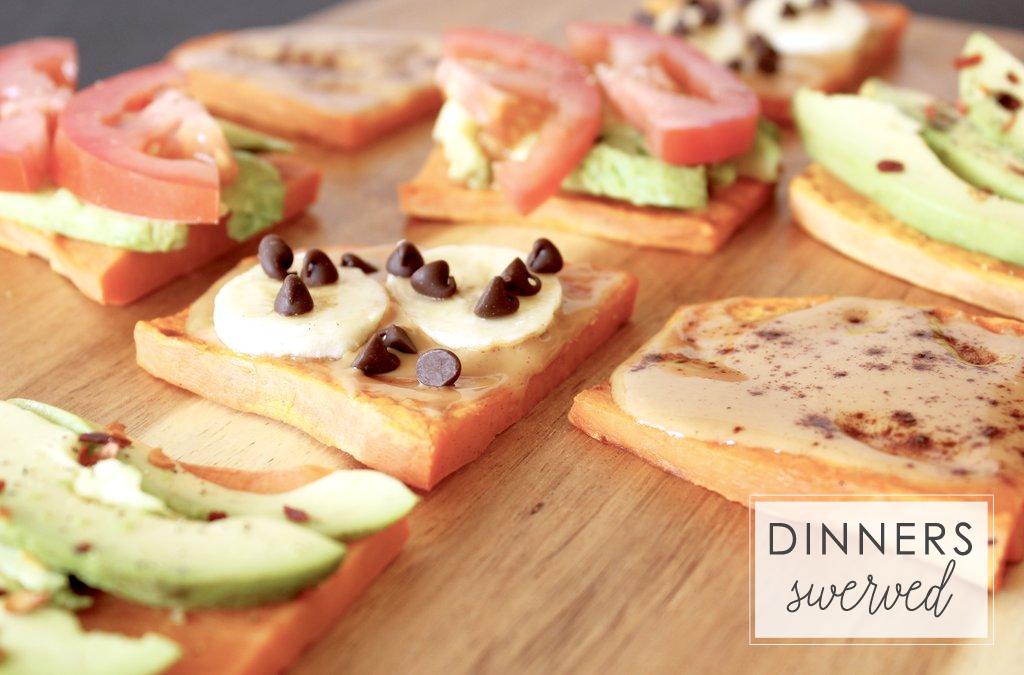 While online this week, several Sweet Potato Toast videos popped up. I'll admit I didn't watch the videos, the only thing I saw was someone sticking sweet potatoes into a toaster and than topping them with "toast" toppings. I'm a big enough person to admit I thought that was a ridiculous idea at first, but as a lover of all things sweet potato, I thought why not try it? Sweet potatoes are full of vitamins and minerals such as vitamin A, vitamin C, B1, B2, B6, manganese, and copper. They are also a good source of potassium and dietary fiber, so why wouldn't you want to start your day off with these bad boys?
I attempted to "toast" the sweet potatoes in a toaster and the results were not great. Let's just say it resulted in me needing to unplug the toaster and dig out said "toast" with a fork. (You can take a moment to visualize that for a second if you'd like) While I was digging the sweet potato out of the toaster, it got me thinking how I could make this happen safely. Broiling seemed like a simple, quick and safer alternative method for cooking the sweet potatoes. Safety side note: I love parchment paper, but DO NOT use it during broiling…the paper catches on fire. Don't ask me how I know this.
To start, I set my oven to Broil. While the oven was heating I peeled and sliced my sweet potato into 1/4 inch slices. Next, I sprayed a baking sheet with coconut oil spray, placed the slices on the pan and than sprinkled them with sea salt. I placed them in the oven, directly under the broiler, for 8 minutes, flipping them half way through. They came out fork tender and slightly browned, not exactly "toast", but a good base for my toppings.
Speaking of toppings, I think the sky is the limit here. I tried peanut butter with cinnamon, peanut butter with sliced bananas and chocolate chips, avocado with hot pepper flakes and finally avocado and tomato. All were delicious and they all seemed to pair well with the sweet potato. Peanut butter and cinnamon was my favorite topping though, it was sweet and spicy…perfection.
Looking for a gluten-free, low-carb, vitamin packed alternative to normal toast? Then Sweet Potato Toast is the breakfast for you. It's quick, delicious and sure to become a favorite in your house!
Happy Eating!
~Nancy

Sweet Potato Toast
A Gluten-Free, Low Carb alternative to your breakfast toast!
Cuisine:
Gluten-Free, Low Carb, Vegetarian
Ingredients
1 Large Sweet Potato
Cooking Spray (I like Coconut Oil Spray, but olive or canola would be fine)
Sea Salt
Optional Toppings
Peanut Butter (Any Nut Butter or Sunflower Butter would work)
Cinnamon
Bananas
Chocolate Chips
Avocados
Tomatoes
Salt and Pepper
Hot Pepper Flakes
Instructions
Set Oven to Broil, place rack directly under the broiler
While oven is heating, peel sweet potato and slice into ¼" slices (may cut in half if you prefer)
Spray baking sheet with Cooking Spray
Place Sweet Potato slices on sheet, sprinkle with sea salt
Place Sweet Potatoes under broiler
Broil for 4 minutes, flip, than broil 4 more minutes (You may need to crack your oven open to allow steam to get out. Depends on your oven)
Remove from oven and top with desired toppings