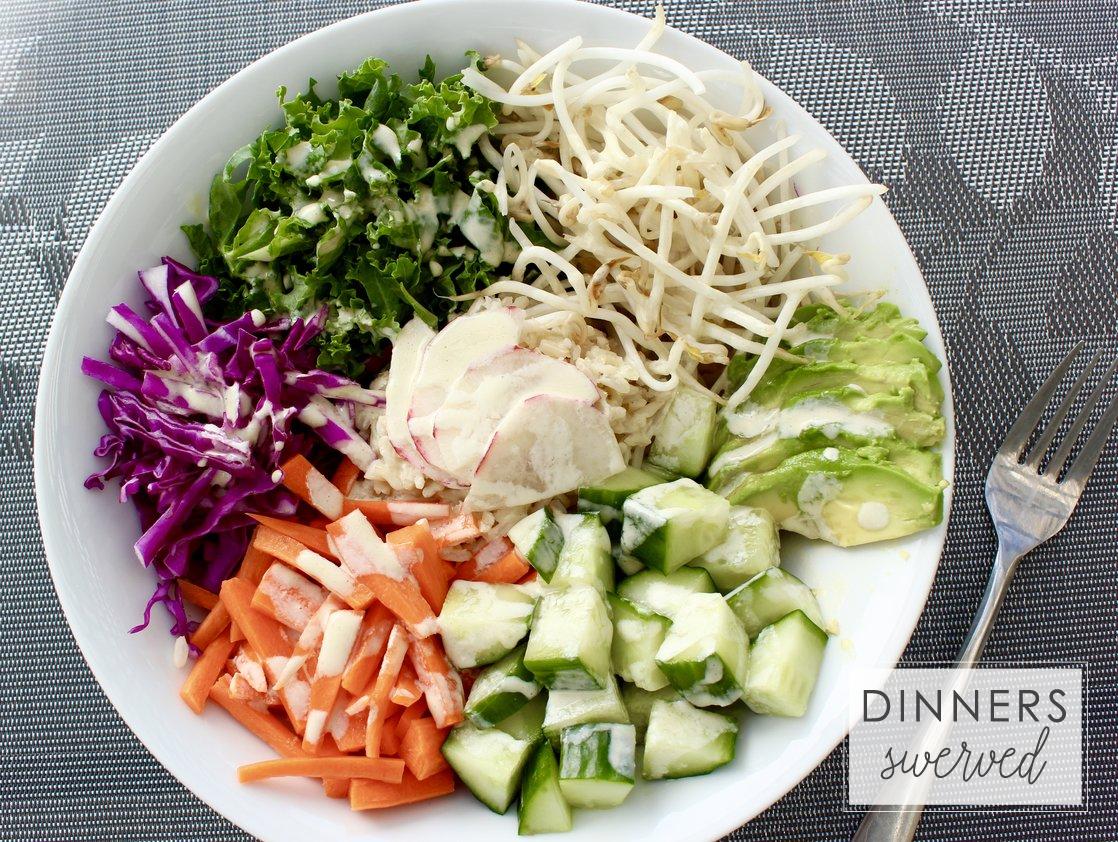 I have a secret, I love veggie sushi rolls from the grocery store. Don't get me wrong, I love going to an actual sushi restaurant and having really good sushi, but the ease of just grabbing a package at your grocers deli counter has a certain appeal to it. Do you know what's even easier than that? This Sushi Bowl with Wasabi Ginger Dressing.
These bowls start out with a hearty scoop of brown rice, but you could use white rice or even quinoa if you wanted.  Sushi rice is usually cooked with seasoned rice-vinegar to make it "sticky", because we are not rolling these up I leave the rice-vinegar out, but you can choose how you'd like to make the rice.  I like the basic sushi veggies, but feel free to throw in whatever vegetables light your fire. I like sliced carrots, diced cucumber and avocado. I also added bean sprouts, green kale, and red cabbage because they are fiber packed and super filling, but also because they are pretty to look at!
The real winner of this bowl is the Wasabi Ginger Dressing. It's zingy, refreshing, and it gives this bowl a real kick. I start out with powdered wasabi and water to make a paste, however you could use pre-made wasabi paste. The powdered wasabi is in the Asian Cooking aisle at your grocery store, I like keeping it on hand for my random wasabi needs. Now don't be scared of the wasabi paste, you can add as little or as such as you like. I use 1 1/2 tablespoons in this dressing, but I'd start out with a 1/2 tablespoon and add more if you want more kick. Ginger, the co-star of this dressing, adds a much needed brightness to the dressing, giving it the refreshing flavor I love. The base of this dressing is Vegan Mayo (regular mayo can be used) and it gives the dressing it's creamy texture. Garlic powder, lemon, seasoned rice-vinegar and Tamari round out the ingredients list. I blend all the ingredients in a blender and drizzle a tablespoon or two of the dressing on my Sushi Bowl. BAM! Be prepared for a taste explosion.
Now I love this Sushi Bowl in it's vegan form, but feel free to add sushi-grade tuna, tempura shrimp or smoked salmon for a fun alternative.
I promise this bowl is as easy as chopping a few vegetables and blending a few dressing ingredients. In the time it would take you to drive to a sushi restaurant, you could have made this meal. Give it a try today, I promise you'll love it!
Happy Eating,
~Nancy

Sushi Bowls with Wasabi Ginger Dressing
A light, refreshing take on Sushi!
Recipe type:
Dinner, Lunch
Ingredients
For Dressing (serves 3-4 bowls):
3 tsp Wasabi Powder
3 tsp Water (more if too thick)
⅓ cup Vegan Mayo (regular can be used)
1 Tbsp Ginger, minced
1 Tbsp Tamari
1 Tbsp Seasoned Rice-Vinegar
½ tsp Garlic Powder
½ of a Lemon, fresh squeezed
For Bowl (serves one):
⅓ - ½ cup Brown Rice, cooked
½ - ¾ cup Carrots, julienned or chopped
½ - ¾ cup Cucumber, rough chop
½ of an Avocado, sliced
½ cup Bean Sprouts
¾ cup Green Kale, chopped (could use lettuce)
¾ cup Red Cabbage, chopped
Radish for garnish
Optional:
Tempura Shrimp
Smoked Salmon
Sushi Grade Tuna
Instructions
Mix 3 teaspoons Wasabi Powder with 3 teaspoons water, mix to form thin paste, set aside for 5 minutes.
Place ⅓ - ½ cup of cooked brown rice in a bowl
Top with vegetables, Carrots, cucumbers, avocado, bean sprouts, kale, and cabbage
Set bowl aside.
In a blender, add mayo, ginger, garlic powder, lemon, seasoned rice-vinegar, and tamari
Add ½ tablespoon of wasabi paste, blend for 10 seconds, taste
Add more wasabi as desired (I use 1½ tablespoons total)
Blend 10 more seconds
Drizzle 1-2 tablespoons over Sushi Bowl, serve immediately