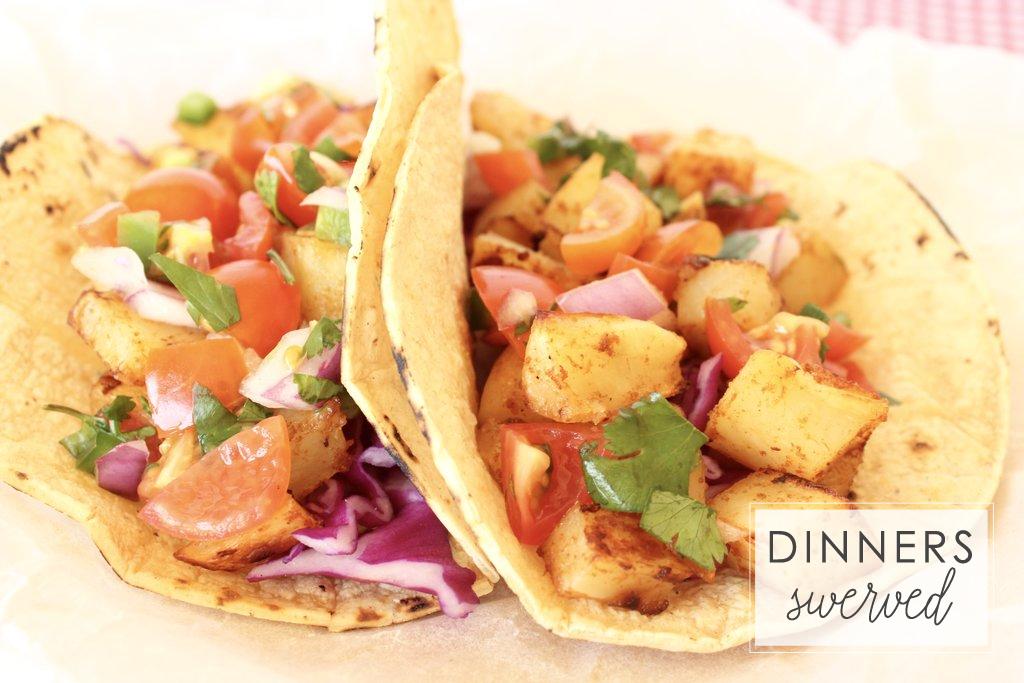 I saw a funny mug yesterday, it said "Let's Taco About It!" I laughed out loud and after receiving several funny looks from people, I moved on to get my groceries, chuckling as I shopped.  But let's talk about tacos for a second. Tacos are a staple in my house. We have them at least once a week, because they are so easy and versatile. Wrap a corn or flour tortilla around anything from roasted veggies to an old car tire and it's sure to please the palate at my house. Oookaaayy, a car tire may be a stretch, but you get my drift. Tacos Rule! And these Potato Tacos? Well, they are so tasty and crazy simple.
Potato Tacos or Tacos de Papa are normally deep fried and while they are super yummy, they aren't super healthy. Plus, me and hot oil? That's a recipe for disaster all on its own. Enter…the baked Potato Tacos. I start by peeling and dicing several potatoes (I like Russets for this recipe, but any will do). I season the potatoes with spices and a little oil, then roast the potatoes until they are crispy on the outside and tender on the inside.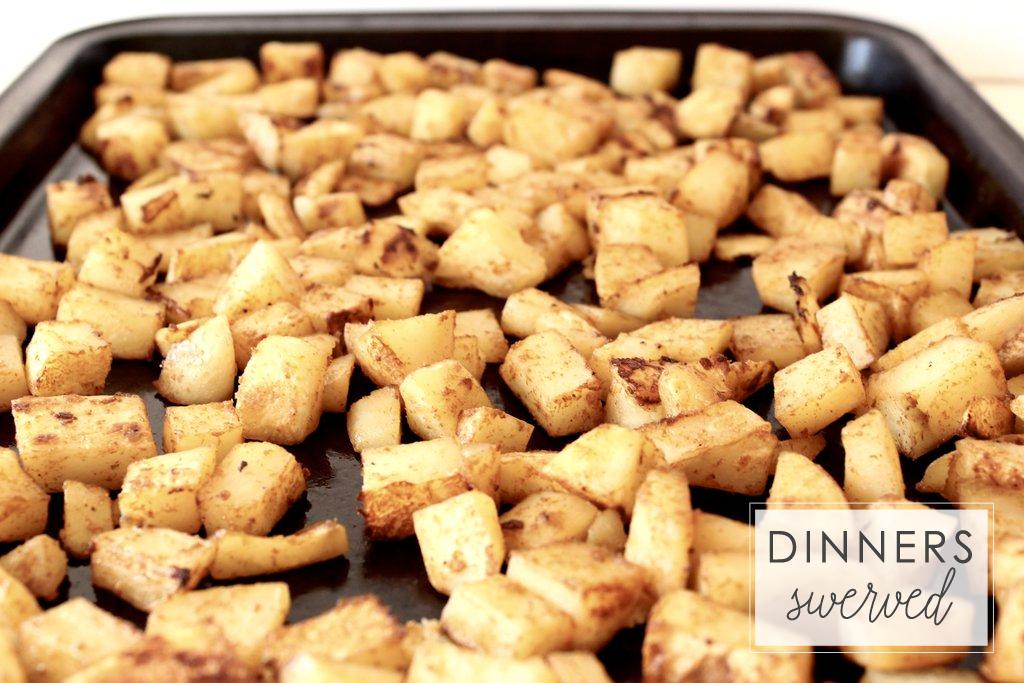 ***A quick tip about roasting the potatoes, make sure you use a big enough pan so the potatoes have plenty of room. If they are too close together they may not get as crispy as you might like. Flip the potatoes half way through to make sure they are crispy on all sides.***
Once the potatoes are done, they are ready to eat. I like to layer cabbage, potatoes, and salsa (such as my Pico de Gallo I posted last week). Cheese, tomatoes, lettuce, onions and hot-sauce are also optional, if you're my husband hot-sauce is not an option, it's a must! I like using warm corn tortillas better for this recipe, but flour tortillas are fine as well. We serve beans, guacamole, and tortilla chips on the side. (When have I ever passed up a reason to have tortilla chips?)
Potato Tacos are a HUGE favorite here. It's probably the one taco recipe I don't have to modify for anyone in the house. They are easy, tasty and way healthier than the original. Try them today and be prepared for a new favorite!
Happy Eating!
~Nancy
(**Side note, this recipe makes enough for the four of us in my house, but no leftovers. Making a double batch might be a great idea.)
Healthy Potato Tacos
A healthy and easy way to have Potato Tacos!!
Recipe type:
Dinner, Lunch
Ingredients
6 Medium Russet Potatoes, peeled and diced (about 1" pieces)
2 Tbsp Spice Mixture, recipe follows
1 Tbsp Olive Oil or GrapeSeed Oil
6 -8 Tortillas, I like corn, but flour is fine
Spice Mixture:
1½ Tbsp Ground Cumin
1 Tbsp All-Seasons Salt
1½ tsp Sea Salt
1 tsp Garlic Powder
1 tsp Paprika
½ tsp Ground Black Pepper
Toppings and Side Options:
Cabbage or Lettuce
Tomatoes
Onions
Hot-Sauce
Salsa
Guacamole
Chips
Instructions
Preheat your oven to 425 degrees
Mix all your spices together, you will have left over, save in an air-tight container
Peel and dice potatoes into 1" cubes, pat dry if damp
In a large bowl combine potatoes, 2 tablespoons of the Spice Mixture, and 1 Tablespoon oil, mix well (taste a potato, feel free to add a little more spice if it's not enough for you)
Spray a baking sheet with cooking spray to prevent sticking, do not use parchment as the potatoes do not get crispy this way
Pour potatoes onto baking sheet, use a large enough baking sheet so the potatoes are not piled on top of each other
Place in oven for 15 minutes, flip and rotate potatoes, then roast an additional 10-15 minutes (baking times may vary slightly so check after 10 minutes)
Once done, serve immediately with favorite taco toppings and sides
Enjoy!