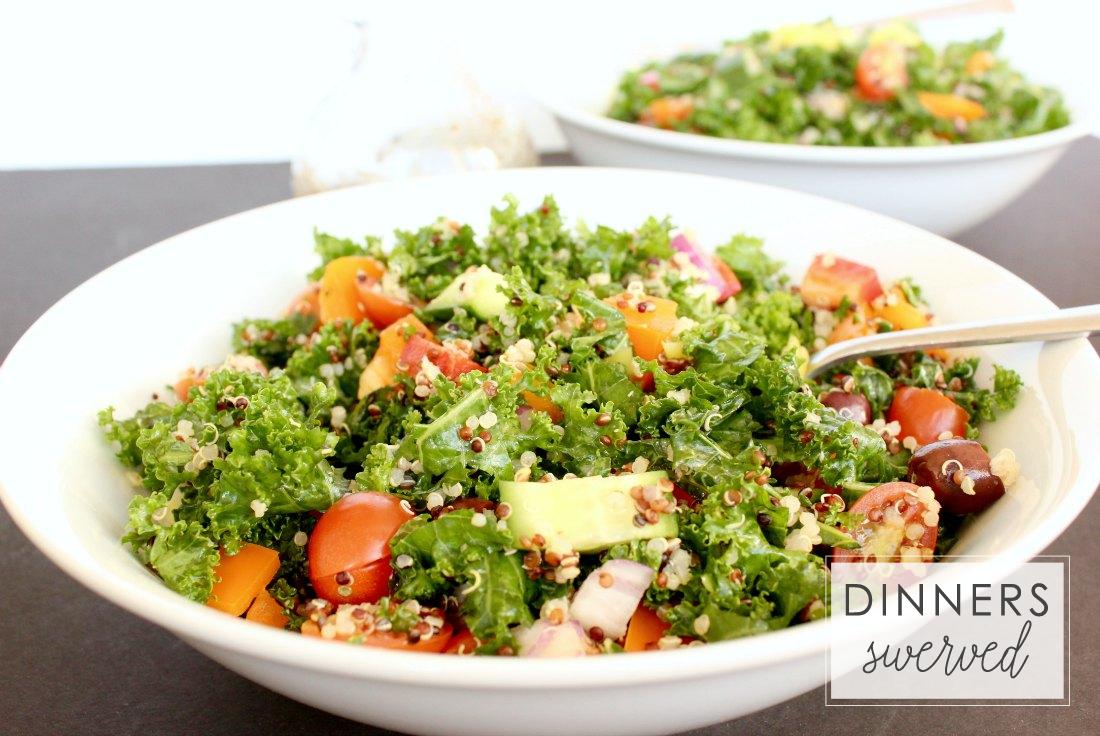 Salads are a go-to favorite at my house, especially when we are watching our waist-lines. A large bowl full of vitamin packed greens, fiber filled vegetables and protein packed quinoa make for the perfect meal in our house.  This Kale Quinoa Greek Salad with Lemon Balsamic Dressing has been on our weekly rotation for a few months now and it's seriously delicious and a must try for all of you!
Kale is one of my favorite bases for salads, it's hearty, filling and vitamin packed. The only problem is that sometimes Kale can seem a bit tough. The key to tenderizing your raw kale is to massage it for a few minutes with lemon juice and a little bit of oil. This my friends is a Kale game changer! To start, I remove the leaves from the fibrous stems, wash and chop them, then I put them in a large salad bowl. Next I drizzle about 2 tablespoon of fresh lemon juice and 1/2-1 tablespoon of olive or grape seed oil, then I massage the kale until it's reduced it's volume by about 1/3-1/2. Then it's ready to go! Now don't be intimidated by this step, it takes approximately five minutes and will simply enhance your Kale eating experience…I promise!
Now that I've given you the best tip ever, let's start making your salad! If you have not cooked your quinoa, go ahead and get that started, allowing it to cool before adding it to the salad. Prepare your Kale, as instructed above and set aside in a large salad bowl. Chop your vegetables then add them to your bowl along with 2 cups of cooked quinoa. You can also add Pepperoncinis (Greek Hot Peppers) and Feta if you'd like. Toss the salad to mix everything together. Now you are ready for your vinaigrette dressing.
I love to make my own salad dressings, because I like controlling the ingredients that go into them. This Lemon Balsamic Vinaigrette is light, flavorful and a perfect compliment to this salad.  Throw all the salad dressing ingredients into a jar with a lid and shake them together, viola….the perfect dressing for this salad! **Helpful hint: I like to add the Lemon Balsamic Vinaigrette to the individual bowls, rather than the whole salad. This allows the salad to stay fresh much longer.
This salad is hearty and filling just the way it is, I promise! However, if you feel like you need even more protein here are a few ideas: Chic Peas are a great vegetarian option and so very Greek! Grilled Chicken or Grilled Fish would also compliment this salad nicely.
Kale Quinoa Greek Salad is a serious salad for people who want a light, yet hearty meal! It's great as a weeknight meal, with plenty left over for a lunch or two a few days later! I hope you try it soon and I hope you love it as much as I do!
Happy Eating!
~Nancy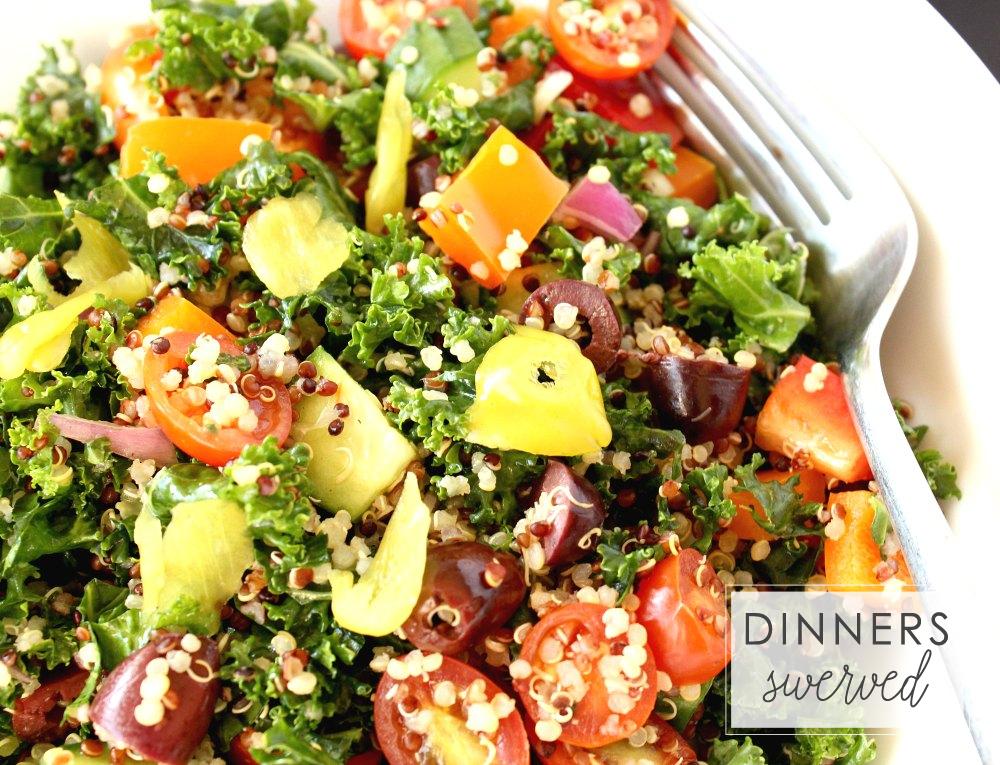 Kale Quinoa Greek Salad with Lemon Balsamic Vinaigrette
A healthy and hearty update to the classic Greek Salad
Recipe type:
Lunch or Dinner
Ingredients
For the Salad
1 Large Head of Kale, (or two small) stems removed and chopped
2 tbsp fresh Lemon Juice
½ -1 tbsp Oil, Olive or Grape Seed
2 cups Cooked Quinoa
1½ Bell Peppers, chopped
1 cup English or Persian Cucumbers, chopped
¾ - 1 cup Grape Tomatoes, sliced in half
½ cup Red Onion, diced
½ cup Kalamata Olives, sliced in half
Optional:
Pepperoncinis
Feta
For the Dressing:
¼ cup Balsamic Vinegar
1 tbsp Lemon Juice
2½ tbsp Oil, Olive or Grape Seed
¾ tsp Sea Salt
½ tsp Black Pepper
¼ tsp Dried Oregano
¼ tsp Garlic Powder
Instructions
Cook Quinoa if needed, according to package directions, let cool
Remove Kale leaves from stems, wash, chop, pat dry and place in a large salad bowl
Drizzle Lemon Juice and Oil over Kale
Massage Kale, with clean hands, until the volume has reduced by ⅓-1/2 its size
Set aside
Chop Bell Peppers, Cucumber(s), Tomatoes, Onions and Olives, then add to salad bowl
Add 2 cups Cooked and Cooled Quinoa
Toss salad together to incorporate ingredients
Set aside
For the Dressing:
Mix all ingredients in a jar with a lid and shake until well combined
Transfer Salad to individual bowls and top with 1-2 tablespoons Lemon Balsamic Vinaigrette
Enjoy!!!