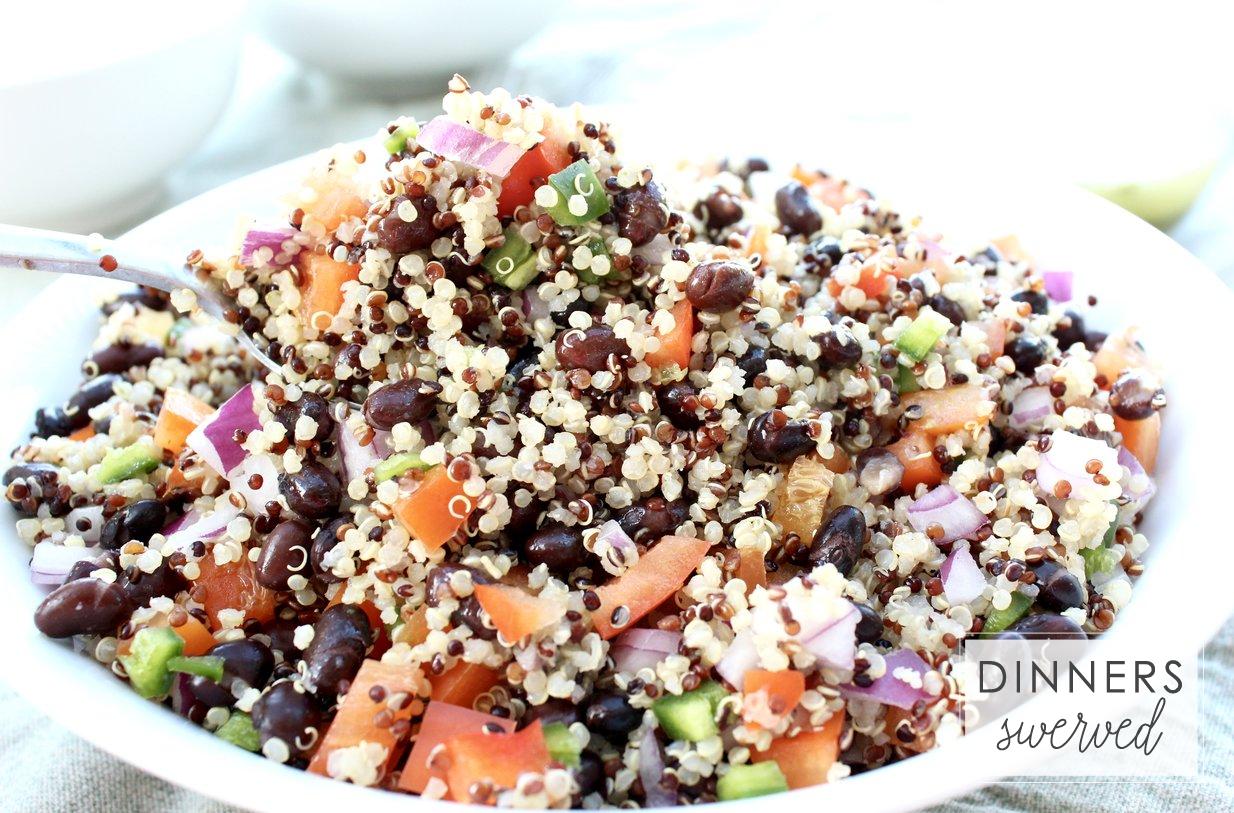 Greetings fellow Foodies! Can you believe summer is almost over? It's hard to believe, especially because it's been so HOT here in LA! So hot, that the idea of cooking dinner has seemed like the worst idea ever and I've tried to avoid it as much as possible…que me rummaging for takeout menus. Enter the Mojito Black Bean and Quinoa Salad, this salad, my friends, is the answer to your "I hate slaving over my hot stove-top" prayers! It's filling, tasty, and darn easy to make!
The Mojito part of the name comes from the lime and mint dressing that goes on top of this salad. It's amazing! Like "What else can I put this on" amazing! I put the left over dressing on fish and a salad this week and it rocked! So feel free to use this dressing on anything you want to add a minty-lime kick to. I put all the dressing ingredients into a blender and pulse until well combined. I start out with 1/3 cup of oil and pulse a few times, depending on the acidity of the limes I may add more oil to balance out the flavor.
The salad is made up of black beans, quinoa, red peppers, red onions and jalapeño. Between the black beans and the quinoa, you've got a plant-based protein salad with fiber to boot! To keep my kitchen cooler and to help keep my prep time low, I used canned black beans and my rice cooker to make the quinoa. However, if you only have dried beans and you don't have a rice cooker, feel free to make these items the old fashion way…the salad will still be delicious. As always, feel free to keep the seeds in your jalapeño, if you're looking for a bit more of a kick!
This Mojito Black Bean and Quinoa Salad is perfect for lunch or dinner and it's so tasty, you may want to make extra for left-overs!
Happy Eating!
~Nancy
**If not a Vegan or Vegetarian, you could add grilled fish, shrimp or chicken to this salad**

Mojito Black Bean and Quinoa Salad
A light and filling salad, inspired by the Cuban Classic Mojito!
Ingredients
Salad:
2½ cups Cooked Quinoa
1 15oz can Black Beans, rinsed and drained
⅓ cup Red Onion, diced
1 cup or 1 large Bell Pepper, diced (I think red is the prettiest)
1 Jalapeno, finely diced with seeds removed
Dressing:
⅓ cup or 3 large Limes, freshly juiced
⅓ - ½ cup Grape Seed or Olive Oil, start wth ⅓ cup and taste
10-12 Mint Leaves, chopped
1 tsp Agave
¾ tsp Salt, add more if needed
¼ tsp Black Pepper, ground
⅛ tsp Garlic Powder
**5-8 Mint Leaves, chopped. Add Before serving**
Instructions
Cook Quinoa per package instructions on stove-top or rice cooker, let cool
Mix Mojito Dressing ingredients in a blender and pulse a few times to combine oil and lime juice
Add cooled Quinoa, rinsed Beans, diced Bell Peppers and Jalapeño to a large bowl
Pour ½ the dressing into bowl, mix well to combine
Try salad, add more dressing and/or salt if needed
Refrigerate leftover dressing
Eat salad immediately or chill until ready to serve
Add a few chopped Mint Leaves when ready to serve
Enjoy