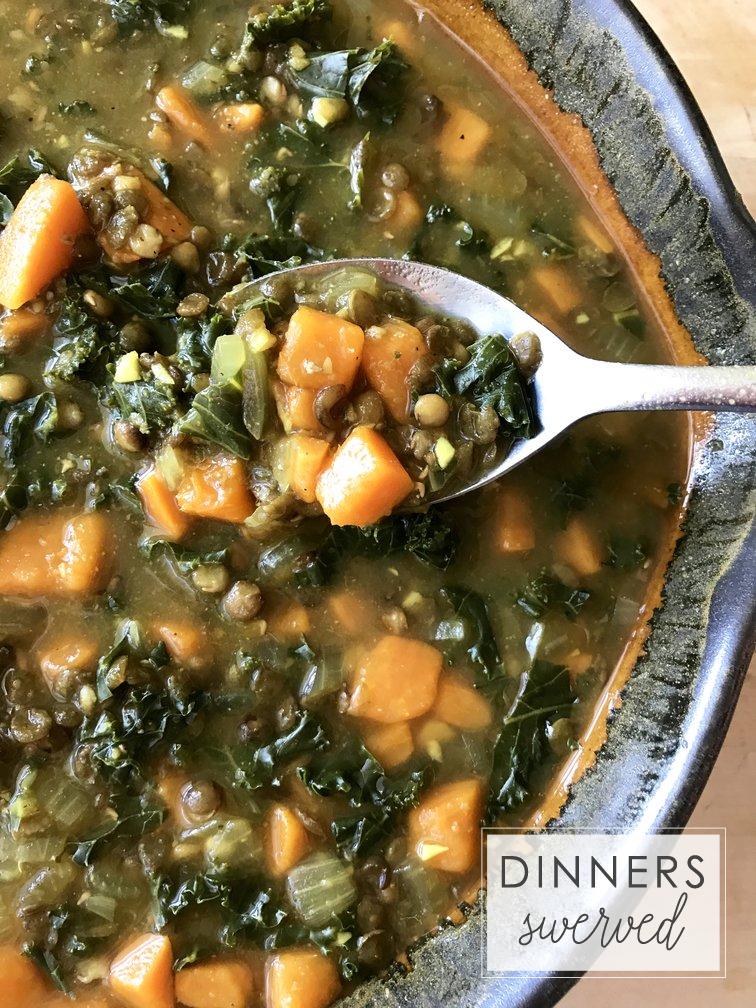 Hello Fellow Foodies!!! I've missed you! It's been way too long since I've posted and I'm sorry about that. We have a lot to catch up on and then we must discuss this Kale, Sweet Potato and Lentil Stew! Because this stew, well, it's fantastic! Like, "you need to make it tonight" fantastic!
About two months ago, my husband was offered a job in southern Florida, a job we knew he couldn't pass up. This new adventure meant we had to pack up our old lives in sunny LA (which we loved) and move all the way across the country. Have you ever done a cross-country move? Well if you haven't, let me tell you…it's not easy. Even knowing what to expect and having his company organize the move, you still end up feeling overwhelmed and a little crazy. To amp the crazy up one step further, my 8 year old had to have eye surgery the week we moved! If not for our amazing family and friends, I am not sure what I would have done!
However, we did get through it and I only came close to strangling one or two people! (Hey, that's impressive all on it's own!) The kids are settling in at their new school and my husband loves his new job, so all-in-all it was a success. Now that life is getting back to a new "normal", I can go back to doing what I love most…cooking!
Now, on to the Kale, Sweet Potato and Lentil Stew!!! This recipe was developed before the move, but kind of got lost in the shuffle. Now that life has calmed down, I'm ready to share this amazing and easy recipe. This stew is the perfect way to warm up inside, while the temperatures are dropping outside! It's got hearty Kale and Lentils to give you protein and fill you up. Sweet Potatoes add a sweetness to it that I love! Turmeric and Cumin give this stew a delightful Indian flare, without being too over the top. It's a soul warming soup (or stew) and it's perfect for this time of year. The best part is, it tastes even better the next day!
The stew comes together rather quickly, especially if you use pre-cooked Lentils. This makes it the perfect weeknight meal, just serve with a light salad or some crusty bread (or naan if you want to really embrace the Indian feel). I encourage you to try this Kale, Sweet Potato and Lentil Stew tonight!
Happy Eating!
~Nancy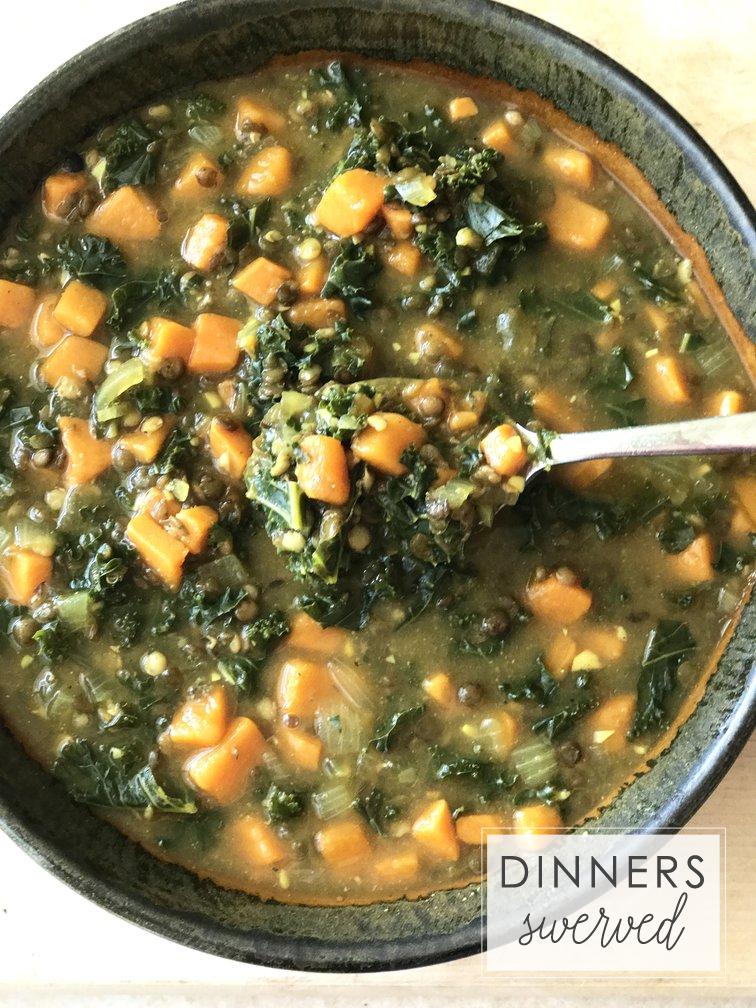 Kale, Sweet Potato and Lentil Stew
This hearty and delicious stew is perfect for you chilly winter nights!
Cuisine:
Indian Inspired Stew
Ingredients
1 cup Onion, diced
1 Tbsp Garlic, chopped
2½ cups Sweet Potatoes, diced
2 cups Lentils, cooked
3½ cups Kale, chopped
6 cups Vegetable Stock/Broth
1 tsp Salt
1 tsp Ground Black Pepper
1 tsp Cumin
¾ tsp Garlic Powder
½ tsp Turmeric
1 Tbsp Oil, Grape Seed, Olive, or Coconut
1 Lemon, optional
Instructions
If needed, cook Lentils per instructions, set aside
Pre-heat Stock Pot over medium heat
Add Onions and Garlic, sauté for 3 minutes (until translucent)
Add Sweet Potatoes and Veggie Stock
Bring to a boil, then simmer until Sweet Potatoes are fork tender
Next, Add Lentils, stir to combine and simmer for 3 minutes
Add Salt, Pepper, Cumin, Garlic Powder and Turmeric
Lastly, add the chopped Kale, simmer for a few minutes to slightly wilt the leaves
Taste Stew, add more S & P if needed
Squeeze fresh lemon over soup before serving
Serve along side crusty bread, naan or a big green salad
Enjoy!!!