Greetings Fellow Foodies!
Happy New Year everyone! I hope your 2018 is off to a magnificent start and that this post finds you happy and well! The boys are back to school after two weeks off for Winter Break and let me tell you, it was tough getting back into the groove of things. We don't have a lot of time before school in the mornings, so a big breakfast is out of the question, but I still want them eating something of substance before they head out the door. The answer to this problem is my Peanut Flour Pancake Muffins, they are quick, easy and delicious. I bake up a big batch on the weekends, freeze them and then reheat during the week. Simple, tasty and filling, the way breakfast was meant to be!
The Inside Story
The base of this recipe is Gluten-Free Flour and Peanut Flour. I personally like Trader Joe's Gluten Free All Purpose Flour or Bob's Redmill Gluten Free 1 to 1 Baking Flour. Now, that being said, you can use whatever brand of GF Flour you'd like, I'm just letting you know my favorites, because that's what these recipes are based on. I'm currently loving Tru-Nut Peanut Flour, because it it simply ground roasted peanuts. As always, you can use whatever peanut flour you like, but I would encourage you to read the ingredients first. Watch for added oils, sodium and sugar, look for a brand that has only peanuts in it.
The great thing about the peanut flour is it gives your pancake muffins a protein boost they'd normally be lacking. We use 1/4 cup in this recipe, that gives these muffins some depth, without overpowering them with peanut butter flavor. My husband (my most honest critic) only likes peanut butter in sandwich form and he even liked these pancake muffins, due to the mellow PB flavor.  ** If you are allergic to peanuts, you can leave out the Peanut Flour and up the GF Flour to 2 cups. The recipe still tastes great and is still a hit in this house.**
To make this recipe vegan I use Flax Eggs instead of regular. To make a flax egg, I take 1 tablespoon ground flaxseed and about 2 tablespoons water, whisk together and let sit for 5 minutes or so. For this recipe I need 2 flax eggs, so I use 2 tablespoons ground flax and about 4.5 tablespoons water. **If you are not vegan, you may use 2 regular eggs in place of the vegan eggs.** I also use Almond Milk, instead of dairy milk. In the recipe I say "1 1/2 to 2 cups" because depending on elevation you may need a little more or a little less milk. Start with the 1 1/2 cups and if the batter seems very thick, add a little more to thin it out.
Instead of white sugar, I use maple syrup to sweeten the batter up. If you would rather, you can use coconut sugar or even brown sugar in a pinch. I also love pure vanilla extract, no imitation garbage in this recipe. To add a bit more sweetness, I added chocolate chips, because we love chocolate in this house. You could omit all together or try blueberries for another twist.
The End's In Sight
I used both regular sized silicone muffin cups and mini-muffin tins and the results were great with both. I filled both up about 2/3's full and baked both sizes for around 10 minutes, on the middle rack. The silicone made for an easier removal, but all in all the results were about the same.
On my regular pancakes, I like to use peanut butter with a drizzle of syrup…these muffins are no different. The boys (the hubs included) like to dip in syrup or even eat plain. I feel like almond butter could really knock these out of the park as well, but that's up to you. Heck, you could even skip the muffin tins and just use the griddle…but where's the fun in that??
These Peanut Flour Pancake Muffins are a hit at my house. They are fast, easy and can be made ahead of time to make school mornings a breeze. Try them ASAP!
Happy Eating!
~Nancy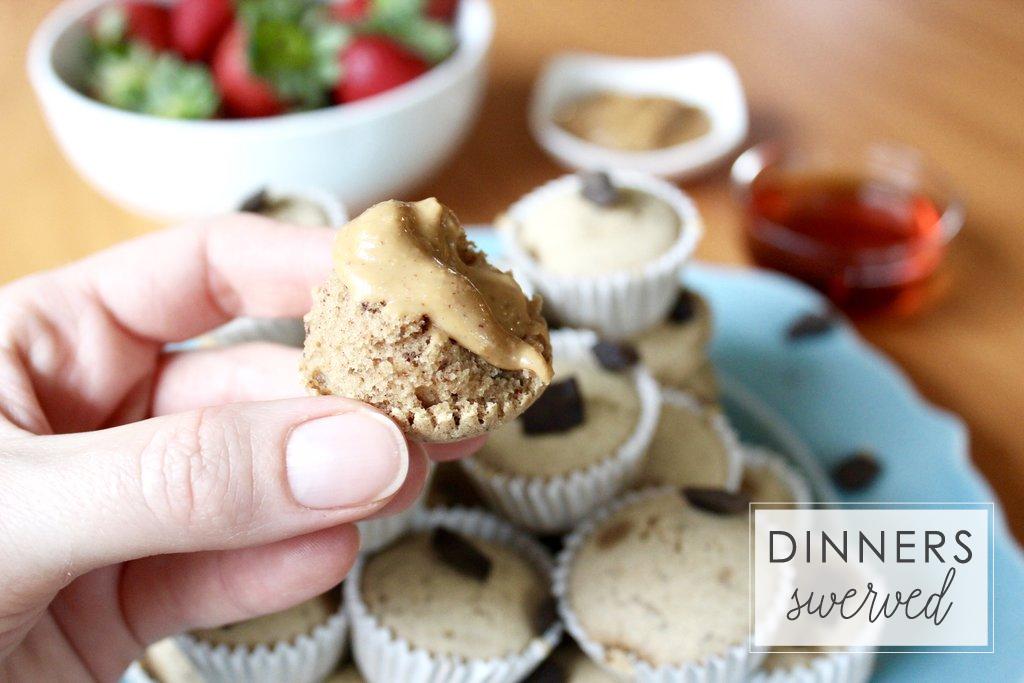 Peanut Flour Pancake Muffins
An easy and fun way to eat your breakfast!
Ingredients
2 Flax Eggs (2 tbsp ground flaxseed mixed with 4.5 tbsp of water)
1½ - 2 cups Almond Milk or Coconut Milk
2½ tsp Pure Vanilla Extract
3 Tbsp Maple Syrup (can use coconut sugar or brown sugar)
1¾ cup Gluten Free All Purpose Flour or Baking Flour
¼ cup Peanut Flour (may omit if allergic to peanuts, just up the GF Flour)
1 Tbsp Baking Powder
1 tsp Baking Soda
1 tsp Ground Cinnamon
¼ tsp Sea Salt
*Optional
½ cup Chocolate Chips or Blueberries
Instructions
Pre-heat oven to 375 degrees (or your griddle if making regular pancakes)
Mix Flax-eggs and set aside for 5 minutes
In a large bowl mix all wet ingredients
In a medium bowl mix all dry ingredients
Slowly add dry mixture to the wet, stir to combine, fold in chocolate chips or blueberries
Spray muffin tins liberally or line with muffin cups
Fill ⅔'s full and bake for 10 minutes on the center rack
Insert a knife into the muffins to see if it comes out clean. If needed, bake for another minute or two
Serve with Maple Syrup, Peanut Butter, etc
If making regular pancakes, follow mixing instructions
Simply pour ¼ cup onto hot griddle, wait until bubbles form, then flip
Cook a few minutes longer until golden brown
Serve with same toppings